Desert Dunking and Diving, Part One
Summer officially begins tomorrow and summer means swimming.
Already hit the pool, right? Then go beyond chlorine and blue tile. Letís go. . . scuba diving!
Ever imagined breathing underwater? Facing a fish nose to nose? Tickling turtles? Exploring sunken wrecks?
When you scuba dive, itís not imagination - itís real! And you donít have to live in Florida or Hawaii.
Get wet in popular nearby dive spots such as Bottomless Lakes State Park near Roswell; Blue Hole or Perch Lake near Santa Rosa; and Balmorhea State Park in Texas.
Donít Know How to Dive?
No problem. Several certified dive shops teach nearby.
The key word is ďcertified.Ē Accrediting agencies include PADI (Professional Association of Dive instruction), NAUI (National Association of Underwater Instruction), SSI (Scuba Schools International), TDI (Technical Diving International), NACD (National Association of Cave Diving), and others.
These agencies are recognized world-wide, so after you become certified in New Mexico, show your C-card in Acapulco, the Caribbean, Thailand, Australia - you get the picture - to rent equipment or sign up for an exotic dive trip.
Entry level dive classes, called Open Water, consist of classroom instruction followed by pool sessions, then real open water diving in a lake, quarry or ocean - all under close instructor supervision.
Already Open Water Certified? Then swim up the learning path to advanced levels in specialty courses such as Wreck Diver, Rescue Diver, Deep Diver, Search & Recovery, Cave Diver, Ice Diver, Underwater Photography and Videography, and more. Even go professional!
Getting Geared Up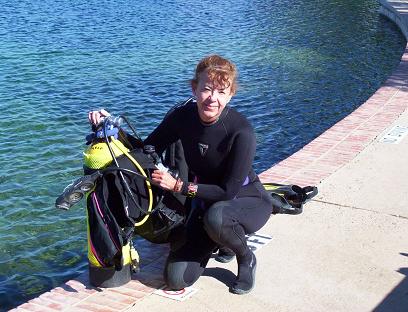 But weíre getting ahead of ourselves. You need equipment. Again, no problem. Dive shops sell or rent everything but a towel and swimsuit. Many include wetsuits and other dive gear in a learn-to-dive package. Ask each shop what its price includes.
The two closest full-service shops include Divequest Scuba in Las Cruces and Inland Divers in Roswell. Both shops are certified to teach classes at all levels, plus rent, sell and service equipment. Divequest Scuba also teaches classes in Alamo and Holloman AFB.
OK, youíre certified and geared up. Great, Ďcause in future columns, weíre getting wet. Will we get down deep in the famous Blue Hole? Go Bottomless? Lakes, that is! Reef dive in Belize or wreck dive in the Bermuda Triangle?

Follow me and find out!
c. "Follow Me!" Alamogordo (NM) Daily News 2004
Back to More Tales of EV's Adventures
---

---
Discover more about Yvonneís canít-look-away prose and pix by contacting her at
---
---