TWO DAYS IN NAIROBI—YOUR FAMILY'S BEST VACATION
PART TWO: GROWNUPS' TURN!
*Honorable Mention Winner of Travel category in the New Mexico Press Women's Communication Contest, 2009.
* Published by PLATINUM Spring, 2008
Are you ready to step back in time, improve US-Kenya trade relations and eat like a lion?
It's our second day in Nairobi!
If you read Out of Africa or saw the Meryl Streep-Robert Redford movie, you'll be enchanted by Karen Blixen's Nairobi plantation home, now a museum furnished with some of her belongings and costumes from the movie, whose exterior scenes were filmed here.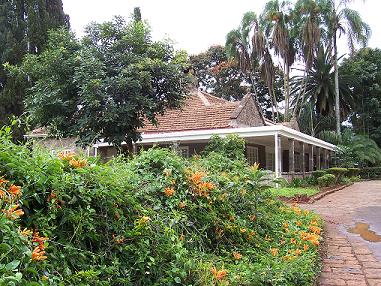 Denys Finch-Hatton's animal trophies, historical photographs and Karen's paintings adorn the walls of the surprisingly small rooms that open onto manicured lawns and lush gardens. Look far to the south, as Karen did, to the grassy Ngong Hills where Finch-Hatton is buried.
IMPROVING TRADE RELATIONS, AKA SHOPPING!
Carved masks begging to be hung on your walls, sculptured animals the size of desk ornaments or life-size, iridescent Tanzanite jewelry, exotic printed fabrics, native musical instruments, woven baskets, pottery, and more entice the dedicated shopper.
Even non-shoppers enjoy strolling local markets or fine art galleries.
Africa is Bargain Central. Do you know the finer points of securing the best deal—and having fun besides?
Let's sharpen your negotiation skills!
At Nairobi's Collector's Den, an upscale art and jewelry gallery, I spotted the Ring of my Dreams, a sterling silver filigree. "How much?" I inquired of the clerk, fingering the ring while not looking at him. Bargaining Rule #1: Never make eye contact while bargaining.
"Twenty dollars," he replied. I set the ring down, feigning disinterest, Rule #2. He didn't make a counter-offer so I strolled to another part of the store and picked up leather bookmarks in animal shapes. "Three dollars each," he announced when I held up one.
My cousin had purchased an identical ring for $17 and bookmarks for $2 in another store, so I kept strolling. Rule #3: Know what someone else paid or what it is worth.
While my friends negotiated for fine Tanzanite stones, I examined inexpensive bracelets. "Two dollars," said the clerk. Rule #4. Look at many items, giving the impression you hope to buy much.
I weaved in and out of the Den's many display rooms, admiring teak and mahogany carved life-sized giraffes, inlaid chests, delicately woven baskets, native musical instruments and fine paintings. My collector companion examined carved masks as large as I am tall and my two quilting companions caressed bolts of fabric with practiced eyes and hands.
I selected six bookmarks and two bracelets and returned to the ring counter. "How much for everything?" I inquired, still not looking him in the eye.
"Forty-five dollars," he said without a calculator.
"Would you take fifteen?" I asked innocently, fingering the bookmarks. . Rule #5: Begin with half of what you really want to pay.
"Thirty-five," he replied swiftly.
I reached in the pocket of my long skirt and pulled out small bills. "I have only twenty-five." Rule #6: Tuck small bills in one or two easily accessed pockets and act like that's all the money you brought. (Rule #6-A: Don't agree on twenty-five dollars then pull out a fifty and expect change.)
"OK, twenty-five," he agreed. I handed him the money, finally looking up. He smiled. So did I--Rule #7.
EATING THE LION'S SHARE
Its name--The Carnivore Restaurant—says it all: meats of every conceivable game animal served outdoors from a giant charcoal grill from which aromas drift a quarter mile down the road. Waiters present the grilled meats skewered on allegedly authentic Maasai swords from which guests slice off as much of whatever they wish at a time-- legs of lamb and pork, haunches of venison, rumps of beef, sirloins, spare ribs, sausages, chicken wings and livers, lamb chops, buffalo, sausage, ostrich, zebra, hartebeest, even crocodile. Dredge the meaty chunks in any of several sauces including BBQ, chili, mint, garlic, berry and curry.
Skewers keep coming until you are as stuffed as a lion after a kill.
The set menu serves appetizer, salad, African side veggies and all the grilled meat you can eat. Desserts (yes, they're all-you-can-eat, too) and cheese finish the feast.
I tried a bit of everything (except the chicken livers), and yes, even crocodile. Verdict? Kinda fatty. A tablemate reported her piece "bony." We declined seconds. I'd dine at the Carnivore again, but the one vegetarian in our group won't. She was served a pizza which she termed "unimpressive." Also, the wine was good, but the specialty drinks were overpriced.
If you go to Nairobi, you must go to the Carnivore. Go very hungry and make your reservations online before you leave home. The restaurant fills up weeks in advance. ( www.africanmeccasafaris.com/kenya/nairobi/excursions/carnivore.asp)
SIDEBAR: GET YOUR FAMILY TO NAIROBI
Air France, Northwest Airlines, Lufthansa, KLM, American Airlines (connecting with British Airways, Brussels Airlines or Virgin Atlantic) and Delta (connecting with Kenya Airways) fly from Dallas-Fort Worth (DFW) to Nairobi (NBO).
Northwest Airlines, American Airlines, Emirates, British Airways, Continental (connecting with KLM or Kenya Airways), Delta (connecting with Kenya Airways), Air France, KLM and Lufthansa fly from Houston-IAH to Nairobi (NBO).
SIDEBAR: CITY OF CONTRASTS
Nairobi is a national capital with the infrastructure of a small town--traffic that's a nightmare of diesel and gas fumes, inadequate roundabouts and traffic lights that are merely suggestions not requirements; luxury neighborhoods and beggars; modern shopping malls and dirt-floored kiosks.
In this city nicknamed "Nai-robbery", go in a group at night; take only cabs called by one's hotel and guard against pickpockets.
c. PLATINUM Spring, 2008
Back to More Tales of EV's Adventures
---

---
Discover more about Yvonne's can't-look-away prose and pix by contacting her at
---
---