YOUR MOST ROMANTIC VALENTINE LUNCH
—IN HONG KONG!
*Second Place Winner of Food category in the New Mexico Press Women's Communication Contest, 2009.
* Published by the Ruidoso News Friday, February 15, 2008
Is that James Bond jaunting down the carpeted staircase?
Audrey Hepburn crossing its marble floors?
Your Valentine will think so when the two of you meet for a romantic lunch at the elegant hotel known world-wide as "Grande Dame of the Far East."
FOLLOW ME TO HONG KONG!
Sure, Valentine's Day was yesterday, but you still have an entire weekend to impress your One and Only. So hop a jet half way across the world for lunch in Hong Kong!
Is the world for sale in Hong Kong? You'll think so when you stroll past fine jewelry stores, designer boutiques and multi-level malls along Canton Road, Cameron Road and Victoria Towers Mall. Along world-famous Nathan Road, it seems every other shop sells electronics.
Seek respite from Kowloon's shopping sensory overload and slip into another world, the Peninsula Hotel.
For nearly one hundred years, the Victorian-era Peninsula Hotel has commanded a prime locale in Kowloon at the end of Nathan Road, a few minutes' walk from the cruise ship dock. Although high-rise luxury hotels now tower above her, the Peninsula's always scrubbed, painted and polished façade belies her age.
Everything about The Peninsula is just a bit grander than even the grandest high-rise. A fleet of polished Rolls Royces sit poised in her semi-circular drive. A Shopping Arcade tempts with Van Cleef and Arpels, Gucci, Yves St. Laurent, Givenchy. Your Valentine smiles in appreciation. Window shopping costs nothing.
Two green-liveried doormen open spotless glass doors. Welcome to enchantment.
Maroon carpeting so thick your heels sink into it and cream-colored walls discreetly back-lit give the illusion of intimacy in a lobby that soars over two stories to bronze colored moldings depicting Greek mythological figures.
ELEGANCE WITH A CAPITAL E
You hear "Never on Sunday" on the Muzak™, but your companion points up. On the mezzanine, halfway between cream marble floors and carved gilt moldings, a black-suited five-piece orchestra plays.
An immaculately suited maitre-d' escorts you to a polished wood table. He discreetly removes your shopping bags, sets them on a vacant chair and holds your chair as you sink far deeper than you expected.
Why didn't you wear a silk frock, hat and gloves?
Unfolding stiff white linen napkins nearly a yard square into your laps, he asks, "May I suggest our specialty drinks, the Blue Dream or the Purple Shadow?"
You select the vodka, cranberry juice and lemon Purple Shadow. Your Valentine chooses the vodka, pineapple juice and blue Curaçao Dream. The menu's Asian classics—spring rolls, Indonesian noodles, Peking duck, satay--and the International fare— Wagyu beef, risotto, goulash, pot-au-feu, orange roughy fillet, Irish salmon—seem a bit heavy for lunch, so you select lighter fare, shrimp spring rolls. The orchestra switches to the theme from "The Sting." Sinking even deeper into leather chairs, you sip your exotic drinks and people-watch.
IS THAT. . . .?
"That woman over there is a Liz Taylor look-alike," whispers your companion, nodding to a raven-haired, bejeweled, well made-up single female diner. "And that one looks like Odd Job." At the next table well-dressed rotund Asian man stares stoically into space, unaware that we compare him to the James Bond bad guy.
"James Bond himself would be at home here," you whisper back as a slim gentleman wearing a Savile Row suit saunters past.
The opening notes of "As Time Goes By" and the clink of cutlery blur into the background. Is that Humphrey Bogart descending the maroon-carpeted staircase with Ingrid Bergman on his arm?
"The food had better come soon," whispers your companion, echoing your woozy musings.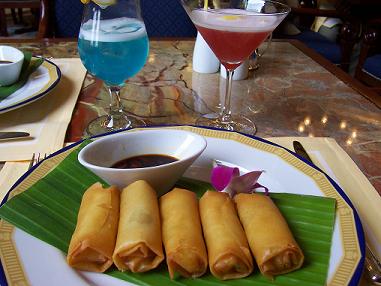 On cue, the spring rolls arrive. Is this a shoot for the cover of Gourmet magazine? Five brown crisp rolls as long as your middle finger but three times as thick lie on a lime-green banana leaf. A small white porcelain bowl cradles soy sauce laced with sliced padi chili. A tiny purple and white Vanda orchid nestles between them.
Do you eat it or admire it? "Would they throw us out if we took a picture?" Feeling like a gauche tourist, you sneak a quick snap.
Hunger overcoming admiration, you bite into one roll. The crispy pastry crumbles on your lips. The shrimps that fill the roll are big and fat, not unrecognizable minced bits hidden in gooey filler so typical of this dish back home. You dip one end into the chili-laced soy sauce. Ah, picante. . . .
The last of the spring roll bits disappear with the last swallow of Shadow and Dream. You collect your bags, nod at the waiter who nods back, cross the lush carpet past the tall columns to the marble floors where the liveried doorman smiles and opens the door. In a second, the swirl of 21st century Hong Kong sweeps you to the present.
But your Valentine memories will last forever. . . .
May the Peninsula enchant for another century.
SIDEBAR: TO ENCHANT YOUR VALENTINE
The Peninsula Hong Kong
Salisbury Road, Kowloon, Hong Kong
Online menu in PDF: http://hongkong.peninsula.com/
Main course lunches average $30 to $50 US, exclusive of drinks. For a lighter, less expensive lunch, select from the appetizer menu. 10% service charge automatically added to bill. Major credit cards accepted. Although male guests no longer are required to wear a jacket and tie, you may feel more comfortable if you forego the flip-flops and shorts.
c. The Ruidoso News Friday, February 15, 2008
Back to More Tales of EV's Adventures
---

---
Discover more about Yvonne's can't-look-away prose and pix by contacting her at
---
---