TAKE MOM TO TEA—IN JAPAN!
*Second Place Winner of Food category in the New Mexico Press Women's Communication Contest, 2009.
* Published by the Ruidoso News Friday, May 9, 2008
When Mom was a little girl, I bet she invited her friends to a pretend tea party.
This Mother's Day, let's take Mom to an unforgettable real tea party—in Japan!
CHERRY BLOSSOMS FOR MOM!
High above the downtown traffic of the city of Kanazawa, the walled Kenrokuen Garden, Japan's most famous garden, shelters acres of beauty and tranquility.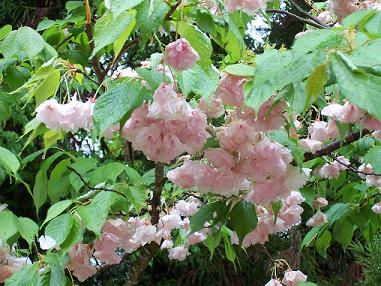 Stone bridges cross ponds topped with creamy water lilies and miniature rivers filled with orange and white koi. Stone lanterns line paths that twine among shrubbery and spring flowers—yellow daffodils, purple crocuses, orange pansies. Cherry blossoms burst like pale pink clouds from thin brown branches.
Sweethearts snap each other's pictures. Small children bounce beside proud parents, everyone happy to be surrounded by harmony in nature, a hallmark of Japanese gardens.
On this soft spring morning, we follow Ranko-san, our guide, along a flagstone path to a slight wooden building with translucent paper windows.
WELCOME TO SHIRUGETA TEAHOUSE!
Leave your shoes on the porch in a neat line with everyone else's and scamper quickly over stone steps. Across the wooden porch floor, a smiling young lady clad in a pale green kimono with pink flowers slides open a paper door. She bows slightly to us, then a tad deeper to Mom.
We enter an airy room, empty of furnishings except straw tatamis (mats) that cover the wooden floor. A second kimono-clad young lady smiles and indicates we should kneel on the navy blue cloths that cover the straw tatamis.
Mom lowers gracefully onto her knees and tucks her feet neatly underneath. (She knows it's bad manners to sit with your feet sticking out in front.)
"The Tea Ceremony has its roots in Zen Buddhism, when the monks drank green tea to keep awake during long meditation ceremonies," advises Ranko-san as our group waits for the ceremony to begin.
She speaks into a small microphone that sends a signal to our miniature headsets. In this way, we keep up with everything going on without disturbing the solemnity of the occasion.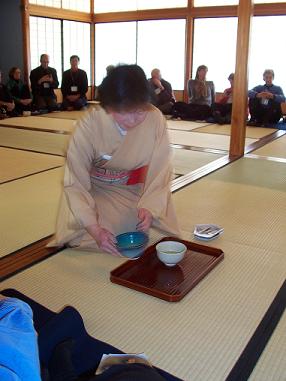 "It takes many months of training to learn the Tea Ceremony, after which a certificate is awarded. It is the goal of every mother for her daughter to earn a Tea Ceremony Certificate," she adds as three kimono-clad women glide into the room.
In their long-sleeved arms, the hostess and her assistants carry trays of small blue and white dishes. "The sweet is to prepare the palate for the bitter tea," explains Ranko-san as they distribute something about the size of a ping pong ball with a tiny wooden paddle. As each server kneels and places the dish in front of us, she bows. We bow in return.
"Because it is spring and cherry blossom time, the sweet is in the shape of a cherry blossom," says Ranko-san. We dip the little wooden paddle into the "sweet," a pink rice-paste ball with a white center.
Surprisingly, it isn't sweet by American standards but then, no country in the world uses sugar in amounts Americans do. "Eat it all before the tea is served."
ETIQUETTE IS EVERYTHING
We nibble in silence as an assistant kneels before an opening in the floor in which a kettle bubbles water for the Washing Ceremony.
Using a red cloth, she gently cleans the cup in which she will brew the ma-cha, the "honorable tea," bamboo whisk and ma-cha-ku, the long-handled spoon. "Every move is choreographed and must be done in seamless order," continues Ranko-san.
"She makes it look easy, but it takes much practice to perform this gracefully in long kimono sleeves."
The hostess whisks green powder in a bowl containing two ounces of hot water. "This is Japanese green tea, actually powdered tea leaves. It will produce foam on top."
After preparing the tea, the hostess stands. We marvel at the way she floats up from her kneeling position, the long kimono not hampering her graceful rising.
As each server kneels and hands us our bowl of foamy green tea, she bows slightly. This is the Presentation Ceremony.
"You must receive the bowl in both hands and also bow," says Ranko-san. "Before drinking the tea, hold the cup in your left palm and using your right hand, turn the bowl 180 degrees clockwise." She demonstrates. "When you finish, turn the bowl 180 degrees counter-clockwise."
The bowl is presented to the drinker so that the elaborate design on the front faces the drinker. However, one's lips must not come in contact with the design, so one turns the bowl to drink from the unadorned side.
"Now, enjoy your tea."
AN ELEGANT--WHAT?
We follow the protocol precisely, not knowing what to expect. The foamy green liquid is bitter and tastes slightly of wheat grass.
Ranko-san advises, "When you are finished, you indicate so by making a noise, a slurp. But," she emphasizes, "an elegant slurp."
You and Mom grin at one another, wink--and slurp.
It isn't elegant—but it's a Mother's Day she'll always remember!
c. The Ruidoso News Friday, May 9, 2008
Back to More Tales of EV's Adventures
---

---
Discover more about Yvonne's can't-look-away prose and pix by contacting her at
---
---