HOT TIPS FOR COOL BEACH (AND WATER FUN) PIX!
*Second Place Winner of Informational Column category in the New Mexico Press Women's Communication Contest, 2009.
* Published by the Ruidoso News Friday, July 18, 2008
"Look here, kids. OK, smile."
Tired of the usual ho-hum vacation pix? This year, let's fill that summer photo album with pizzazz!
FOLLOW ME TO THE BEACH (OR LAKE OR POOL!)
Both candid and close-up shots provide intimacy. For example, this candid shot of someone unaware and enjoying the beach (CANDID) evokes a sense of her inner peace.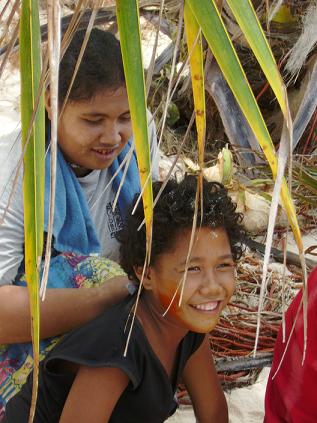 You know kids frolicking in the sand or poolside make great shots, so try candids instead of the usual "smile for the camera" shots. Without looking at the camera, they're unaware of your lens. The longer your lens, the greater opportunity for an intimate expression.
By allowing you to take sharp pictures within inches of your subject, your camera's macro shooting mode (flower icon on Point and Shoot cameras) turns a seemingly ordinary object such as a footprint in the sand or this coconut washed to shore (Coconut)into an art object. Be sure to turn off the flash, get in close, and let the subject fill the frame.
GO PERSPECTIVELY CRAZY!
Instead of shooting from the same angle every time, shoot up, down or around.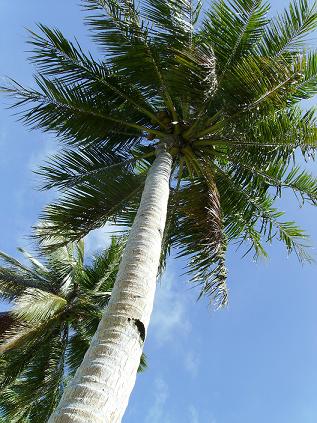 Palm trees are beautiful, but at this angle, they're dramatic.
FLASH IN DAYTIME?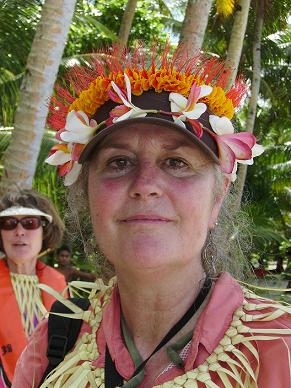 Beach sun creates harsh shadows, so use Fill Flash when shooting in direct sun to get rid of strong shadows on faces or other objects in your shot.
Experiment with cloudy days, in shade, or around sunrise or sunset.
THE SHADOW KNOWS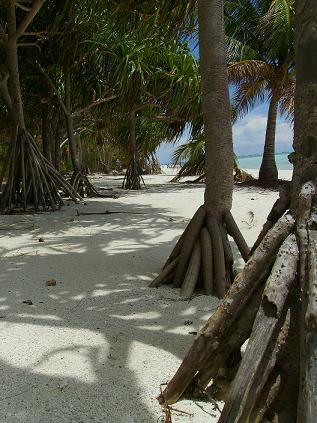 Shadows aren't all bad. Use them for dramatic interest.
POSITIVELY PANORAMIC
To make that sweeping beach as dramatic as in real life, try any of these tips:
1. Set your camera to Landscape Mode for an automatic aperture (lens opening) that keeps everything near and far both sharp and clear. Using Manual settings, try a high number such as F 6.3 or higher.
2. Use the widest angle possible.
3. Use your photo editing program to "stitch" several shots in sequence into a panoramic shot.
KEEP ME COVERED!
Sun, water and sand ruin cameras. Keep your camera safe by storing in a camera bag and out of hot sun when not in use. (Hint: if photographing from the deck of a cruise ship, shelter your camera in a plastic bag or wrapped in a shower cap until you take the shot. Without your realizing it, salt spray collects on everything exposed—your skin, clothes and camera.)
If using an underwater camera, remember to keep it in the shade when not in use. Soak it in fresh water after your day at the beach or pool to dissolve salt or chlorine.
c. The Ruidoso News Friday, July 18, 2008
Back to More Tales of EV's Adventures
---

---
Discover more about Yvonne's can't-look-away prose and pix by contacting her at
---
---