"I HAVE RETURNED"
MACARTHUR IN THE PHILIPPINES, PART TWO
*Second Place Winner of Special Series category in the New Mexico Press Women's Communication Contest, 2009.
* Published by the Ruidoso News Friday, October 24, 2008
On October 20, 1944, US General Douglas MacArthur fulfilled a promise to the Philippine people in World War II. To commemorate the 64th anniversary this week of that fulfillment, "Follow Me!" retraces the General's steps in the Philippines.
PART TWO: FOLLOW ME TO LEYTE
Americans are treated like royalty in Leyte.
Our Heritage and Historical Expeditionary Tour landed on Red Beach, the same shore where General Douglas MacArthur and an attack force of 738 Allied ships landed troops on October 20, 1944, fulfilling his promise to the Filipinos and beginning the liberation of the Philippines from the Japanese.
Instead of enemy fire, the local Tourism Department welcomed our five Zodiacs (inflatable motorized rubber craft) to MacArthur's landing place, now Leyte Landing Memorial Park, with a welcome banner, cold water, shell necklaces and postcards. An ice cream vendor clinked his bells.
"Imagine it's October 20, 1944," said onboard lecturer Bob Reynolds, gesturing toward a grassy area. We looked up. General MacArthur was wading in!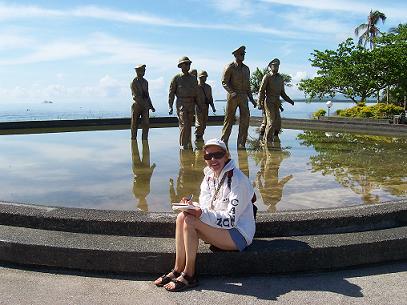 Of course, it wasn't MacArthur, but larger-than-life bronze replicas of the striding General, Philippine President Osmeña, Philippine General Romulo and others.
At the Prayer for Peace Memorial, we read plaques from heads of state given on the 50th anniversary of MacArthur's return.
Even though it's been over 60 years since he landed, saying, "I have returned," the town of Palo remembers MacArthur fondly. We drove down MacArthur Street to MacArthur Park, passing MacArthur High School then over to MacArthur's headquarters, now a Museum.
Statues and memorials abound. My favorite is of a Boy Scout. "Filipino Boy Scouts helped the General," said Bob. "They used flag signals to communicate enemy whereabouts and guided our men in."
FROM MACARTHUR TO MARCOS
Our five mini-vans followed a police motorcycle escort to Tacloban, the provincial capital of Leyte. Here, the Romouáldez family has held wealth and political influence for several generations. One daughter of the Romouáldez family sought to make Tacloban the cultural capital of southern Philippines. She preserved local dances, costumes and culture and presented them to the world where they won acclaim.
Her name was Imelda.
"She was Miss Tacloban 1947," said Victor, our local guide, as we turned into the Santo Niño Shrine near Imelda Street.
"Imelda built this shrine to our patron saint in 1979-81. She is very religious. The Shrine houses treasures and gifts from around the world that she and President Marcos collected."
A large chapel dominates the Shrine's downstairs floor. Pews of nara wood (Philippine's national tree), Stations of the Cross and two Italian tile murals over six feet high, one of the Sacred Heart and one of Immaculate Conception, proclaim its religious purpose. However, the mural-sized painting of Imelda as a young woman that hangs behind the Santo Niño altar interjects a secular theme. "Do we pray to Imelda?" whispered my companion with a wink.
But it's not the Chapel that draws foreign visitors; it's the guestrooms and family room. We removed our shoes and followed our guide through the two-story mansion—excuse me, Shrine--which Imelda built.
Each of the 13 themed guestrooms is furnished with local or foreign treasures, such as nara wood banisters and floors, local batik, pineapple fiber-woven walls, Austrian mirrors, etc. "No one has ever stayed here or will stay here. It's just for display," our guide explained as we passed the 20-person nara wood dining table. A portrait of Imelda as a young woman graced one end of the dining room.
Climbing the immense nara wood staircase to the second floor to the so-called "family rooms" we gawked at the Grand Ballroom. "These are Persian rugs." No wonder we're barefoot. I tried not to knock over the Ming vases as I craned my neck at the crystal chandelier. But I bumped into the black 1901 Spanish antique piano, nearly tipping over the wedding photo of Ferdinand and Imelda sitting atop it.
Ferdinand Marcos's room was very masculine, with dark brown Italian leather-woven walls, Louis XV furniture and an Austrian chandelier which didn't seem out of place in the room's African hunting safari motif.
Across the hall, past the 30-person dining room, many paintings and a large bust of Imelda as a young girl, we entered Imelda's room, lined with French silk walls and tapestries. Egyptian mirrors reflect a Belgian chandelier, creating an "endless chandelier" effect. Italian jars, French toilet articles and a Jacuzzi larger than king-sized bed create the aura of opulence that one expects of Imelda Marcos.
Despite being called family rooms, "The Marcoses never stayed here."
SOMEBODY HAD TO SAY IT
"Where are the shoes?"
Our guide smilingly ignored the question. We were to discover that the concept of Imelda's thousands of pairs of shoes is only the international perception of her. To her people, she was a generous benefactor and preserver of local heritage. "Everyone collects things—stamps, coins, spoons. Imelda likes shoes. What's so noteworthy about that?" posed Bob, our onboard lecturer, who claims to have known the Marcoses personally.
Returning to the beached Zodiacs, traffic stopped for our caravan. Seeing our banner proclaiming "Heritage and Historical Expeditionary Tour from the USA," locals smiled broadly and waved.
"MacArthur liberated us. Americans are still loved here," said Victor. I recalled Armando's words from yesterday, remember? He said, "On behalf of 87 million Filipinos, I thank you."
Nice to hear, isn't it.
Yvonne Lanelli visits WWII memorials around the world in tribute to the men and women who enabled the freedom her generation now enjoys.
c. The Ruidoso News Friday, October 24, 2008
Back to More Tales of EV's Adventures
---

---
Discover more about Yvonne's can't-look-away prose and pix by contacting her at
---
---