"I SHALL RETURN"
MACARTHUR IN THE PHILIPPINES, PART ONE
*Second Place Winner of Special Series category in the New Mexico Press Women's Communication Contest, 2009.
* Published by the Ruidoso News Friday, October 10, 2008
On October 20, 1944, US General Douglas MacArthur fulfilled a promise that he had made to the Philippine people in World War II. To commemorate the 64th anniversary this month of that fulfillment, "Follow Me!" retraces the General's steps in the Philippines.
PART ONE: FOLLOW ME TO CORREGIDOR
From the sea, Corregidor Island looks as it did a century ago when it served as a significant US military fortress.
Red and white fishing boats bob in gentle waves on the white sand beach from which General Douglas MacArthur left the Philippines on March 11, 1942, promising the Filipinos, "I shall return."
Today, MacArthur's bronze statue greets cruise ship visitors to the same beach. So do smiling tour guides and vendors of postcards, shell jewelry, sunglasses and water. The former military fortress, wartime HQ of the Filipino President and WWII battleground, is now a memorial park and family recreation center.
COME FOR HISTORY; LEAVE WITH MEMORIES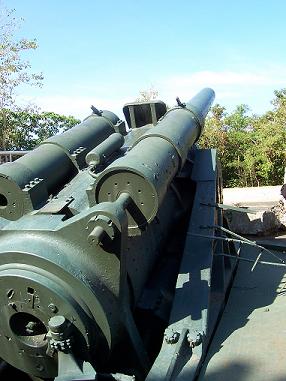 At Battery Way, visitors walk in the steps of 1893 Spanish-American soldiers, past guns so big they required fourteen men to load.
Built in 1915 to house 5,000 men, Middleside was one of the two largest military barracks in the world. Today it recalls World War I memories.
World War II guns, one with a 17-mile range as well as 35- and 60-ton "disappearing guns," impress visitors. These immense weapons fit horizontally in recessed wells, hidden from enemy ships by foliage.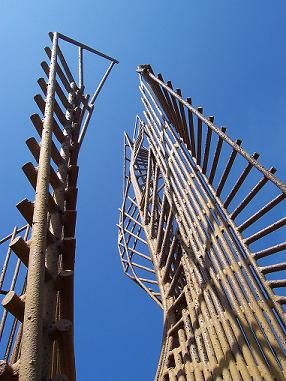 Local guide Armando explains how a 35- or 60-ton gun rises to shoot then disappears. "Counterweights of 40 and 65 tons raised the guns. When they fired, recoil dropped them back down, disappearing from view of enemy ships. Their designers believed these guns to be the ultimate weapon. But they became obsolete when air warfare replaced battleships."
Near the bombed ruins of a large movie theatre (Its last showing was Gone with the Wind) sits the Pacific War Memorial. A statue of an American soldier and Filipino soldier, both wounded but helping each other along, leads to the Altar of Peace, a stone disc upon which, at 12 noon every May 6, the sun shines completely. It was May 6, 1942 when the Americans ceased fire.
A path lined with granite slabs engraved with Pacific campaigns ends at the Eternal Flame of Freedom, a 30-foot tall metal sculpture "lit" by solar power.
The nearby Museum preserves medals, models of planes and ships, rifles, shells, uniforms, scrip, insignia and everyday items of the US military presence since the Spanish-American War to the end of WWII.
Perhaps the most touching display is the original Instrument of Surrender of the Philippines on September 3, 1942.
But these impressive displays are dwarfed by Malinta Tunnel.
FROM ARSENAL AND PRESIDENTIAL HQ TO TOMB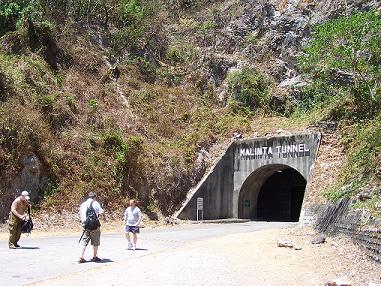 This 24-foot wide long tunnel with its 8 lateral tunnels, three-foot thick concrete walls and 8-foot thick concrete roof penetrates 835 feet into the volcanic rock mountain. Americans built it from 1922-32 to use as a bombproof arsenal and military hospital that could shelter 8,000 people.
During WWII, Philippine President Manuel Quezon set up headquarters there. When the Japanese took Corregidor, they moved in, but the bomb-proof structure proved their tomb.
"It was bomb-proof from the outside, not the inside," said Armando. Through ventilation shafts, the Americans filled it with gasoline and napalm and burned out 3,000 Japanese with it. The Tunnel gradually filled with rubble as cracks appeared during earthquakes and the mountain took over.
In the 1980s excavation began to open the tunnel for visitors. Today one can walk the length of the tunnel during a 30-minute sound and light show portraying WWII events.
Visitors find more—statues and memorials to US General Jonathan Wainwright, to the US Army and Filipino nurses known as "Angels of Bataan and Corregidor," and to Philippine war heroes and presidents; a Japanese Memorial Garden ("We get many Japanese tourists, but their tour is very different from yours."); more gun batteries and barracks.
After bidding our group the usual tour guide farewell, Armando surprised us. Standing near the bronze statue of General MacArthur, he said, "On behalf of 87 million Filipinos, I thank you."
Award-winning Yvonne Lanelli visits WWII memorials around the world in tribute to the men and women who enabled the freedom her generation now enjoys.
c. The Ruidoso News Friday, October 10, 2008
Back to More Tales of EV's Adventures
---

---
Discover more about Yvonne's can't-look-away prose and pix by contacting her at
---
---