A BEVY OF BALLOON PHOTO TIPS!
*Second Place Winner of Informational Column category in the New Mexico Press Women's Communication Contest, 2009.
* Published by the Ruidoso News Friday, September 12, 2008
"You can't take a bad balloon shot."
A spectator snapped picture after picture, seemingly paying no attention to Photography 101 rules.
But you go for the "Oh, wow" balloon shot. How?
Format your memory card, set your alarm for 4 AM and follow me to:
White Sands Balloon Invitational Sept. 20-21
Albuquerque International Balloon Fiesta Oct. 4-12!
* * * * *
FOLLOWING THE RULES—SOMETIMES!
1.Keep it sharp. Perhaps the most basic rule: shoot in focus. Blur ruins the best composition or subject.

2.Rule of thirds. Mentally divide your view screen into vertical and horizontal thirds. Place your subject in one of those thirds.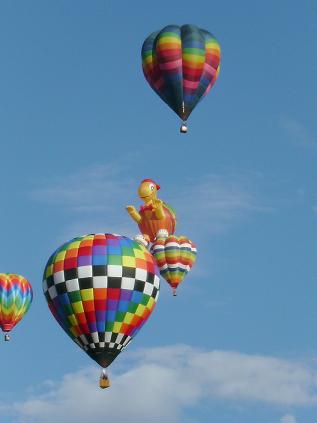 3.Diagonal lines are more pleasing than horizontal or vertical ones. If shooting a row of balloons, for example, line them up so that they begin in one corner and end in the diagonal opposite one.

4.Include people for human interest. A candid shot of an open-mouthed child propped on Dad's shoulder, a photographer or videographer hunkering for the best angle, spectators pointing to their favorite balloon, the crew readying the balloon for flight are all eye-catching opportunities.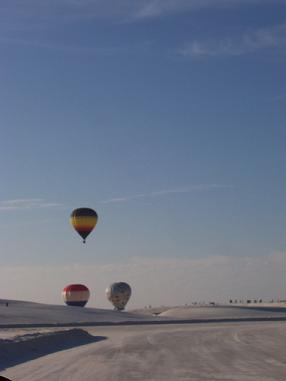 5.Landscape is as dramatic as close up. Naturally you'll shoot close ups of the most colorful or unusually shaped balloons. After you've shot that bright rainbow-striped balloon, pull back with a wide angle and put the balloon in perspective. A second shot of it surrounded by dozens more colorful balloons tells more of the story.

6.Get the sun behind you. Early morning sun brightens a gray dawn. The balloon you shoot before sunrise will appear dramatically different after.

7.Remember the vertical. Balloons lend themselves easily to a vertical format, so turn your camera 90 degrees. See the difference?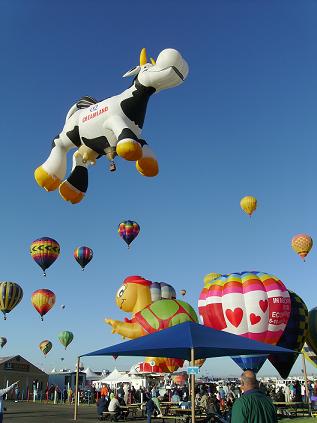 LET'S MAKE OUR OWN RULES!
1.Go for special effects. Sometimes this means shooting out of focus, as I did of this Dawn Patrol balloon. I wanted the effect of the bright balloon lit against the still dark sky. Lacking time for a slow exposure speed, I pointed and shot when the burner fired for one or two seconds. (Had I been smarter about my new-for-the-first-time camera, I would have chosen Aperture Priority over Auto-Focus.)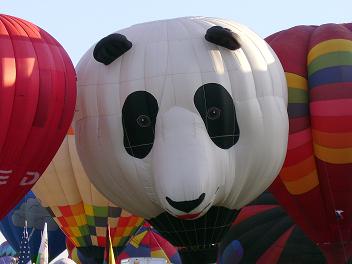 2.Fill the frame. A balloon can easily fill the entire frame, rendering the Rule of Thirds useless.

3.Go for the unusual angle. Why not shoot straight up instead of straight ahead?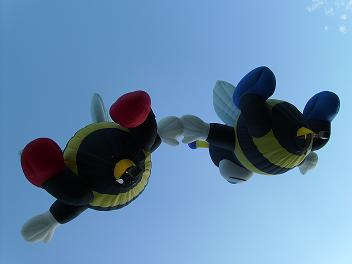 4.Do your homework. Check out the Invitational's and Fiesta's websites (below) or watch an early morning TV show broadcast from Balloon Park to get an idea of some of the balloons you especially want to look for, such as the twin bee balloons that are hook-and-looped together as if they were holding hands and that separate when airborne. Or Airabelle ™, the largest special shape balloon.

5.Get airborne! If you're fortunate to hop a ride, sling your camera around your neck and shoot from your 360-degree view! You'll shoot balloons beneath, beside and above you, as well as on the ground below.

6.Shoot into the sun! Just-risen sun peeking over mountains or behind an inflated balloon creates an artistic effect.

7.Bright balloons look brighter against a contrasting background. Sure, a clear blue sky highlights that bright balloon, but so would a scattered cloud or, if airborne, the dusty brown city below.

8.Make your own rules! Get as creative as you wish. Remember, you won't take a bad balloon shot—but you will take spectacular ones!
Award-winning writer/photographer Yvonne Lanelli will get up at any hour to fly in a balloon—at White Sands, Albuquerque or Africa!
BALLOON PHOTOGRAPHY ETIQUETTE
When walking among inflating balloons, be very aware of where you walk. Look down and avoid stepping on the balloon's envelope or any ropes. Look up and mind ropes being held by crew as the balloon rises. Balloonists love to answer questions about their craft, but pilots and crew focus on dozens of details to insure a safe lift-off. Save your questions for the ground crew after the balloon has lifted.
For White Sands Balloon Invitational info, visit www.alamogordo.com, or call 800-826-0294 or 437-6120. For the ABQ Balloon Fiesta, visit www.balloonfiesta.com, or call 1-888-422-7277 or 505-821-1000.
c. The Ruidoso News Friday, September 12, 2008
Back to More Tales of EV's Adventures
---

---
Discover more about Yvonne's can't-look-away prose and pix by contacting her at
---
---