TEN WHITEWATER RAPIDS IN TWO HEART-STOPPING HOURS-- RIVER RATS ON THE "FU"!
* Published by the Ruidoso News Friday, March 2, 2007
Imagine riding a bucking bronco—in a raging river. You heave up and down, slam forward and backward, getting drenched with every buck.
This is whitewater rafting. You love it. You're a River Rat!
* * * * *
FOLLOW ME TO THE FUTALEUFÚ!
Rafting Chile's "Fu" is unique. In only two hours, you'll encounter ten—count 'em, ten—rapids with waves as high and nasty as barbed-wire fences, eddies that spin you like a blender plus starched-collar tight passages that test the best oarsmen.
As in last month's "Surviving Chile's whitewater," we surmount these sneaky rapids in catarafts. (See Cata-What?)
Our first rapid, Puente Colgante (Hanging Bridge) provides practice for the rest of the river.
You and paddle partner Betty Ann tuck your feet into pockets on the self- baling floor of the raft, balance yourself comfortably on the opposite tubes and grasp your paddles in both hands. Fico, the raft's guide-oarsman, reviews commands. "Two must stroke as one, so one of you will lead." You'll cue off Betty Ann, the more experienced paddler.
Fico asks, "Ready?" then launches the raft. "Forward!" You and Betty Ann lean forward, dig your paddles into the water at the same time, then pull yourself backward from the waist. This powerful full body stroke engages abdominal muscles, lessening the strain on arms and shoulders.
A couple of strokes and you're set up for the wave train. "Forward," Fico orders, heading into the first wave. The raft rises and falls like a bobbing cork, skimming easily over the rippling wave train to its end.
"Stop." You rest your paddles—but only for a few seconds. The Fu's current draws you swiftly to the next rapid.
NOTHING SOFT ABOUT THIS "PILLOW"
Fico gently maneuvers the raft toward The Pillow, one of today's two most treacherous rapids. Its chief menace: a pickup truck-sized rock looming in the middle of the river. The water's entire force crashes into the rock then reverses back onto itself, creating the almohada, the "pillow" that will flip a trapped raft.
"We must not ride The Pillow, only touch it, maybe kiss it," says Fico, his blue eyes narrowing in concentration. Current draws the raft inexorably forward.
You and Betty Ann grip your paddles and wait for the command. "Forward!" barks Fico. The raft enters the rapid.
Water thunders as the raft bucks and tops the first wave. Fico pulls on his ten-foot long oars, guiding the raft over the tops of the waves. It spins slightly, slides around Pillow's boulder then plunges down the well on the other side, turning slightly sideways. Fico pulls on his oars again, the raft surges forward.
Fico yells, "Forward, hard!"
Together you dig for all you're worth. In seconds, you're free of the Pillow's grasp.
"Well done!" praises Fico. You and Betty Ann grin under your dripping helmets. Not bad for a couple of amateurs!
The next rapid, Toro, is smaller with no great surprises, but the next, Mundaca, demands precision. Again, Fico sets the plan. Your paddles are poised.
"Forward!"
In you go!
Water thunders, drowning all sound except Fico's voice. "Forward! Hard!"
Stroke after stroke, your paddle plunges into the foaming maelstrom. Twice you grab air instead of water. A refrigerator-sized wave crashes overhead, throwing you sideways. Your feet, still tucked in the pockets, save you from being washed overboard.
But you never stop paddling. Out of the corner of your eye, you follow Betty Ann. No matter how high or low the water, her paddle never wavers. You match her rhythm, stroke after strong stroke.
TAKE A BREATH AND A PICTURE
The raft plunges almost vertically down Mundaca's last wave before flattening out. "Back paddle, now, hard," orders Fico. Reversing strokes, you paddle away from the current and into a quiet pool near the shore. You breathe again.
"Want to take pictures?" invites Fico. You unsnap your dry bag, dry your hands on a chamois towel, and take out your camera. Setting the exposure and shutter release for action, you wait for the next raft. As it enters Mundaca, you shoot continuously. The raft bucks and heaves, the four paddlers creating the illusion of an insect slithering over and under the waves.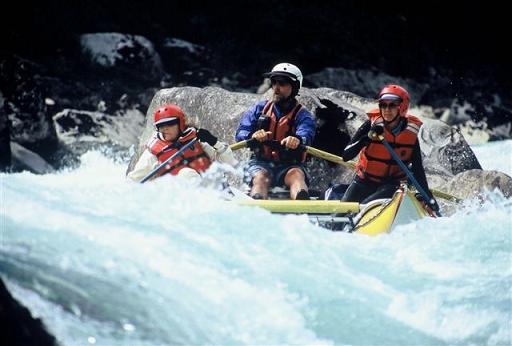 So that's what your raft looked like!
MORE RAPIDS AND FUN AHEAD!
Six more times—in rapids named Puma, Pudú (small South American deer), Uiña (small South American wildcat), Cara del Indio (named after a rock formation shaped like an Indian's head), Condor and Tiburón (shark)--you, Fico and Betty Ann work like a well-oiled rafting machine.
Finally the river widens. Around a bend the support crew waits at the takeout point. You float in, leap to the rocky beach and drag in your raft. More rafts haul in. Everyone grins. "High Five!" Paddles click the traditional salute.
Your legs are cramped. You're soaked from head to toe. Who cares?
We're River Rats!
CATA- WHAT?
A cataraft is a raft shaped like a catamaran sailboat without a sail.
Two inflatable tubes, each eighteen feet long and 22 inches in diameter, are joined by an aluminum frame with a raised seat for the oarsman and spaces for up to six paddlers.
"Catarafts are more maneuverable than a conventional raft and lighter," says Steve Currey of Currey Expeditions.
c. The Ruidoso News Friday, March 2, 2007
Back to More Tales of EV's Adventures
---

---
Discover more about Yvonne's can't-look-away prose and pix by contacting her at
---
---