Disabled Skiers Program Lets Ski Apache Bring Smiles To All
Chris Young, age 7, was all smiles as he skied for the first time recently at Ski Apache.
Chris's ski experience differed from others', however, because he has no use of his legs. But thanks to a unique program, the Ski Apache Disabled Skiers' Association (SADSA), Chris skied - just a bit differently.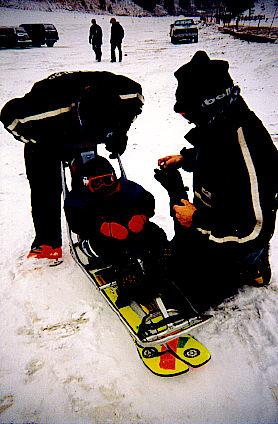 Two specialized SADSA instructors accompanied the second-grader as he rode over the snow in a Bi-Unique Sit Ski, a device made especially for people unable to stand upright.
Chris has no muscle control from the waist down, due to spina bifida, a birth defect involving his spinal cord. On dry land, he buzzes around in a red mini-wheelchair.
When his parent Linda and Phil Young, of Houston, Texas, brought the family skiing, Chris joined in the fun despite his disability, thanks to SADSA, which provided his instructors and equipment.
In it third decade, SADSA provides the joy of motion on snow to those who would otherwise never know it.
"We provide adaptive skiing to individuals with any disability," said Brett Maul, SADSA,'s general manager and one of Chris's instructors. Those disabilities include the hearing or visually impaired, developmentally disabled, amputees, those with cerebral palsy, polio, muscular sclerosis, muscular dystrophy, Parkinson's or spina bifida, paraplegic, quadriplegic, and all others," Maul said. Last year, more than 300 disabled skiers of all ages enjoyed Ski Apache as much as their able-bodied fellows.
A cadre of professional instructors and dedicated volunteers utilizes many techniques and, when necessary, an array of adaptive equipment, such as the sit-ski, outriggers (short skis attached to arm cuffs), a walker with attached skis and others.
For his first time, Chris simply rode in his sit-ski which Maul and fellow instructor Clay Smith guided from behind.
As the trio glided gracefully across the snow, Chris gleefully urged, "Go faster!" earning him the nickname "Top Gun."
"When Chris is older and bigger, he'll be able to propel himself with outriggers and ski on his own," Maul explained.
Chris's mother knows her son will progress. "He's developing upper body strength and his self-confidence has grown since he started skiing," she said.
Chris is one of eight siblings, four of whom came skiing. His brothers and sisters took lessons from Ski Apache's Children's Ski Program.
"We want to be a skiing family, and because of this program, Chris can do what his brothers and sisters do," said his father, Phil.
"We were looking for a vacation home this summer, and considered many places. When a real estate agent, Joe Zagone, told us about this program, that clinched the deal. It was Ruidoso, no doubt."
SADSA is a nonprofit organization that remains available to any physically or mentally disabled person. Those wishing to discuss skiing possibilities, donate or volunteer may call (505) 336-4416.
c. Ruidoso (NM) News 2002
Back to More Tales of EV's Adventures
---

---
Discover more about Yvonne's can't-look-away prose and pix by contacting her at
---
---