DISCOVER SURPRISING TULAROSA --ON A WALKING TOUR!
*First Place winner Travel category National Federation Press Women Communication Contest 2008.
First Place winner Travel category New Mexico Press Women Communication Contest, 2008.
Published in Platinum, Spring 2007
Which New Mexico community boasts:
*Underground tunnels connecting businesses and homes--and maybe hiding treasure.
*A fruit and garden oasis watered by a gravity-fed system over 100 years old.
*Homes dating from the 1800s still lived in and loved.
*The oldest and largest sycamore tree in the state.
*A church named on second thought.
Surprise—it's Tularosa!
Stroll with local guide Cindy Duran Prelo-Riedlinger through this charming south- central New Mexico community at the intersections of US 54 and US 70, and you'll discover many more surprises--from an insider's point of view!
No surprise here; Cindy is a native Tularosan. "My mother grew up in my great grandparents' home. I was born here and often visited the home where my Great-great- aunt Leonor Holguin lived."
UNDERGROUND SURPRISES
"Cesario Duran I lead a group of colonists from the Mesilla Valley to the Tularosa Basin." she begins on a walking tour of historic homes and buildings. "They attempted their first settlement in 1860 but were unable to sustain their settlement because of the Apaches. They returned in 1862 with a formed government, alcalde, (mayor), and military support."
She unrolls a map. "This shows the 49 solares, blocks of land allocated to the original colonists. The 48th block is the church. Today's police station and municipal offices make up the 49th. We call our historic district 'The 49.' The 49 is on the National Register of Historic Places and the New Mexico Register of Cultural Properties."
Outside The 49 lay the horteleza, farmland that grew wheat, alfalfa, and corn.
"The colonists' first dwellings were chosas, underground shelters that were partially dug out. A row or two of adobe was laid to raise the walls a bit. The ceilings were dirt, mud, and cattail reeds. A network of tunnels connected the chosas. This network may have undermined later highway construction because occasionally we see sagging," she adds.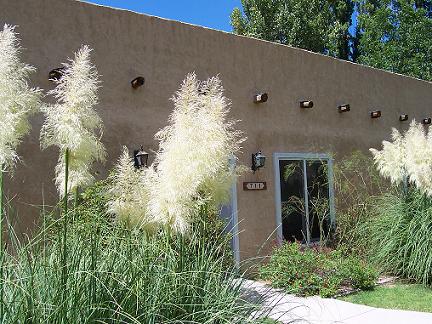 Adobe homes replaced chosas. "The material—clay and stabilizers—are right here, so building with adobe was a logical choice, even today. Early houses were built to take advantage of the summer cool and winter warmth. Adobe is a thermal mass insulator. It wicks up heat when warm and gives it back. The same is true for cold. Adobe also wicks up water. Houses were built close to acequias, their source for water. Since many of the early homes were built without a footing or foundation, any moisture in the dirt, particularly from water use from the acequias, will cause structural damage, including cracking and splitting of the homes. Because of this, when one spends time restoring an older home, it usually involves jacking up the house and constructing a footing. Many of the old homes have a cut stone footing."
SURPRISE—YOU CAN LEARN ARCHITECTURE!
The farming community thrived as more and more settlers moved in after the American Civil War and into the early 1900s, building homes in The 49 using current architectural styles.
"By the time we finish, you'll be able to tell how old a house is," promises Cindy. She gestures to one. "See those low windows? And how close it is to the street? That's a dead giveaway that it was built in the 1800s when horses and wagons could pull right up to the house."
She gestures to another, a one-story home that spreads out behind a lawn. "Families from Tularosa left in the 1930s to work in California. When they returned to Tularosa, they added porches that echoed the California 'bungalow' style. See the difference?"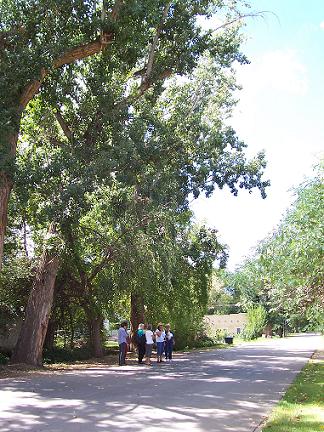 Strolling past homes with Victorian bay windows, starburst designs, porch stones from Blazer's Mill up the canyon, and more, Cindy enumerates the original, succeeding and present owners' names as well as architectural features.
She pauses in front of one home. "Can anyone guess the age of this home? She asks with a twinkle in her warm hazel eyes.
"Low windows and close to the street—it's from the 1800s!" answer several guests. Cindy nods.
"It's my family's home. Four generations were born and died here," she says with quiet pride then adds, "My generation was the first to be born in the town's medical clinic."
REFRESHING SURPRISES
The sound of rushing water tantalizes Cindy's audience. They stop beside a corner irrigation ditch.
"Our water system dates from 1862. Settlers, without the help of hydrologists, noted the highest part of the settlement was where the church is. They constructed an acequia (ditch irrigation system) that flowed downhill from the church to every block. A Mayordomo was selected to be the keeper of the water, and we still use that system today."
Strolling beneath a canopy of cottonwoods, poplars, pecan trees and willows that soar four stories high, visitors admire gardens full of yellow, pink and red roses, ripening pecans and quinces, orange pyracantha berries, persimmons, chile, grapes, apricots, tomatoes, melons and more.
"We're nicknamed 'Oasis in the Desert'," she notes, then adds with a giggle. "When I was a child, we walked to church and ate all the way—both ways!"
FAMOUS TULAROSANS AND TREES
"The actresses Kim Stanley and Jan Clayton grew up here," Cindy points out. Baby boomer guests remember Jan Clayton as the first mother on the TV series "Lassie."
"And on the next corner you can see the state's oldest and largest American sycamore tree. But we're going to jail now."
In the next block sits a pretty little house, no evidence that "this was once a brothel, then a dance hall and across the street, a jail. A tunnel provided a handy escape in case it was raided."
LUNCH AND SHOPPING SURPRISES
Gift and antique shops, restaurants, galleries and a cantina now occupy historic buildings on Granado Street, Tularosa's original "downtown." Cindy points out the locations of former mercantiles, a funeral parlor and furniture store and the "Red Brick" school building built in 1916, closed in the late 70s and being restored as a community activities center.
"I taught here!" exclaims one guest, a retired public school teacher. "I'm glad it's being restored. It was such a happy place when I taught."
After lunch at Coffee & More, a deli in the former Tularosa Dry Goods Store, the tour resumes at the Church of St. Francis de Paula. Cindy recounts its history as both religious haven and safe haven when Apaches threatened. "The church and the Chapel of Perpetual Adoration are always open."
SAINT FRANCIS OR SAN LORENZO?
"Our church was supposed to be named for San Lorenzo, but the religious artifacts for San Lorenzo were far away in East Texas. Every time someone went to get them, a flood or other disaster would prevent it. Finally someone said, 'This is a sign. We need to name the church for someone else.' Don José Bernal had a painting in his home of St. Francis, the Bernal family's patron saint. He loaned it to the church which was then named after St. Francis."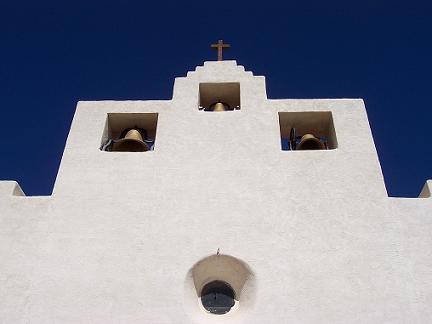 Stories tell of tunnels built beneath the church and throughout the village connecting different properties. "We think the unexcavated chosas are connected to the block south of the church and could hold a treasure of artifacts."
ARTISTIC SURPRISES
The tour ends at La Casa Rosa, studio of Cindy and husband Ken Riedlinger. After Cindy left Tularosa to attend New Mexico Highlands University and then teach, she and Ken returned in the late 90s to become traditional artisans in her beloved ancestral home.
"We do traditional furniture, weaving, tinwork and retablos, religious folk art." The couple built their studio of adobe they mixed themselves.
Family pictures adorn the studio. Cindy points with pride to a certain one. "This is Cesario Duran II, my great-great uncle, son of Cesario Duran I who led the settlement into Tularosa."
Her hazel eyes grow reflective. "It's good to live here again. I walk down a street and feel that my great-great-grandmother walked the same street."
c. Roswell Daily Record, 2007. Used with permission
Back to More Tales of EV's Adventures
---

---
Discover more about Yvonne's can't-look-away prose and pix by contacting her at
---
---