SURE FIRE TIPS FOR "OH, WOW" SPRING BREAK SKI & SNOWBOARD PIX!!
* First Place Winner Informational Column Category in New Mexico Press Women Communication Contest, 2008.
Honorable Mention in the National Press Women's Communication Contest 2008.
Published in"Follow Me!" Friday, March 16, 2007
Whether you tuck a Point and Shoot camera in your parka pocket or strap on the semi-pro model with multiple lenses, you want the best Spring Break pictures ever.
For super ski and snowboard photos, try these tips:
LIGHTS, CAMERA, ACTION!
Good ski and snowboard pictures seldom happen by accident. Plan your shoot as if you were a movie director.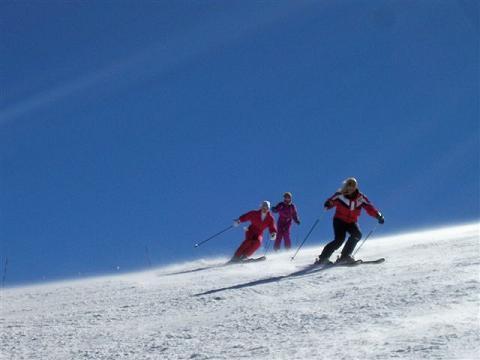 • Look at the sun and decide which slopes will allow you to shoot your subjects with their faces lit, not in shadow. At Ski Apache, I find the morning sun's angles best.
• Load your camera with plenty of film or sufficient memory and fresh batteries. Cold drains batteries, so carry spares in an inside parka pocket.
• Cold also freezes fingers, so wear a pair of liners under your insulated mitts or gloves. When you remove the mitts or gloves to manipulate your camera's tiny buttons, liners will protect your fingers.
• Picture this: white snow, green trees, black-jacketed skier and rider. Dull. Now picture this: white snow, green trees, skier or rider in red, orange, neon yellow or lime green. Get the picture? Ask your subjects to dress colorfully, please.
• Good skiers and riders make good pictures.
• Skiing and riding are all about turning. Capture the action while your subject's making turns, not traversing across the hill. Exception: if you're photographing a downhill race, pictures of the racer in a tuck portray action, particularly if you blur the background.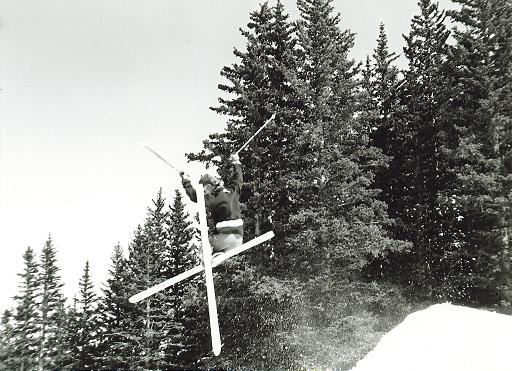 • Plan the action. To capture freestyler Jeremie Livingston at the top of his Iron Cross, he told me which mogul he would take off from. I positioned myself with the sun at the right angle, the trees in the background, and most importantly, Jeremie at the height of his trick.
• Use natural "frames." Clouds make terrific frames for scenic shots of that mountain top. Chairlifts frame their riders. Trees not only frame a subject, they provide a reference for depth and slope.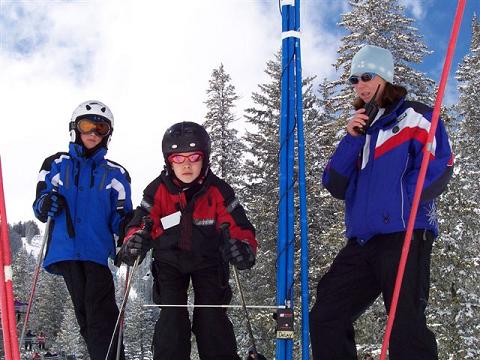 • Check your background before you click the shutter. Is that a snowmaking gun sticking out of your subject's head?

• Use your longest telephoto lens (or telephoto setting on your Point and Shoot). Direct your subject to ski or ride straight toward you, making short-swing turns, facing you and smiling as though he or she's just seen their best friend.

• Taking a group shot? Instead of shooting straight ahead, stand at an angle and create a diagonal effect.

• Goggles or glasses on or off? That's strictly preference. Eyes make the subject come alive, but not if they're squinting.

• Shoot'em coming and going. Skiing or riding away from the camera, particularly if the subject is a small part of a landscape shot, can be dramatic.

• A skier or rider in the foreground adds drama to landscape shots.

• Contrast and texture add interest.

• Go for an unusual angle.

• Faces tell stories. Get as close as possible.

• Finally, and this is just a personal thing, when I'm shooting on the hill, I leave my ski poles in the truck. Handling the camera keeps my hands too busy to bother yanking pole straps off and on.

Try these tips and snap your best Spring Break snow pix ever!

c. "Follow Me!" Ruidoso and Alamogordo (NM) Daily News 2007.

Used with permission

Back to More Tales of EV's Adventures
---

---
Discover more about Yvonne's can't-look-away prose and pix by contacting her at
---
---