HAPPY FOURTH OF JULY FROM NOME!
* Published by the Ruidoso News Friday, July 6, 2007
Ice cream overflows tall cones and drips down your arm. Spectators wave red, white and blue flags in one hand and balance mustard-y hot dogs in the other. Everyone cheers the marching band, huge fire engines glittering in summer sun and their favorite decorated bicycle.
After the parade, kids scramble to the park and line up for the gunny sack races, shoe scrambles, egg races and blanket toss.
But there are no fireworks. . .
It's the Fourth of July. Where are we?
* * * * *
FOLLOW ME TO NOME, ALASKA!
"We don't have night," a Nome resident points out. With almost 24 hours of sunlight in early July, this community so close to the Arctic Circle doesn't experience full darkness for nearly four months.
No darkness? No fireworks? No problem!
You'll find plenty of Fourth of July fun in this far northwestern Alaskan community that I first visited nearly 25 years ago.
Then as now, hiking boots echo on wooden sidewalks that lead to rustic weathered gift shops where visitors from the cruise ship anchored in Nome Port shop for furry mukluks and other Native Alaskan crafts.
Folks pose in front of the finish-line marker of the 1049-mile Iditarod Sled Dog Race. At the artifact-filled Nugget Inn neither its historical pictures nor its dining room view of Norton Sound has changed.
But the Internet has come to Nome's public library upstairs of the Carrie McClain Memorial Museum on Front Street where Nomers (Nomians? Nomites?) line up for their Fourth of July parade.
By the time I'd connected with folks back home, the baton twirler corps ended the parade. Political speeches over, city officials became moms and dads, walking behind their kids hurrying for spots at the street races and fun games.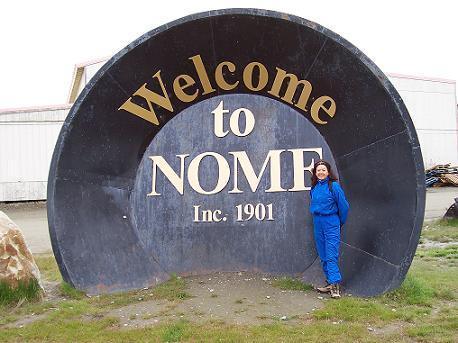 Not eligible for either tricycle races or pie-eating contests, I strolled over to Anvil City Park, a sort of town square with statues and plaques dedicated to Nome's origin as a gold mining mecca at the turn of the century. No matter I was here only for the day. On the Fourth of July, everyone's a Nomite.
FOOD, GLORIOUS FOOD
First there was lunch at the church's community hall, compliments of a civic group. "Don't forget the free ice cream at the Fire Station!" reminded a friendly Nomian as she filled my paper plate and pointed across the street.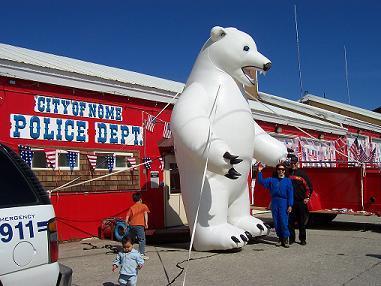 No trouble finding the fire station. If the freshly washed fire engine gleaming out front hadn't caught my eye, the giant blow-up figure of a polar bear would.
I strolled past the monument to the Three Lucky Swedes, the town's founding fathers, to Nome Fire Station. Volunteers wearing yellow bunker pants held up by red suspenders dished out choices of chocolate, strawberry and vanilla. "Don't forget the free hot dogs at the store next door," reminded the friendly Nomite firefighter as he handed me a napkin-wrapped cone.
"And the free ice pops, too" reminded a Nomer in line behind me.
Juggling ice creams and hot dogs, I posed in front of the giant polar bear blow-up then made my way back to Anvil City Park for the not-to-be-missed Blanket Tossing.
BLANKET WHAT??
In earlier times, Native Alaskans invented the Blanket Toss to locate game in a land without trees or hills. Using a thick walrus hide several feet wide in diameter, they positioned their best hunter in the center and tossed him as high as possible. When he spotted game, the hunt would begin.
Today, Blanket Tossing (why is it not called Hide Tossing?) is a popular form of recreation.
A large crowd gathered in the Park. Anyone strong enough (not me!) took a position around a half-inch thick hide about twelve feet in diameter. An inch-thick rope weaved around the edge, providing a hand hold. As one woman called instructions, those holding onto the rope practiced tossing a fanny pack in the center of the hide. After several attempts, they succeeded in tossing and catching the pack without dropping it. At that point, little kids stepped forward from the rapidly growing queue.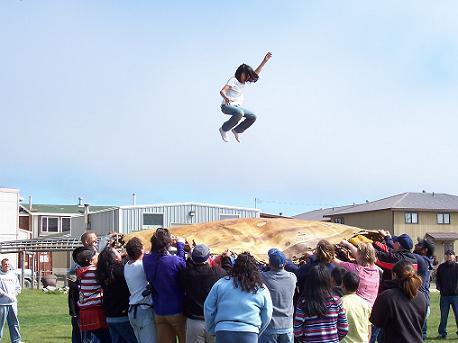 One at a time, each child stood in the center of the hide and the tossers bounced her. Everyone chanted, "One, Two, Three-- Four!" On Four, she was tossed fifteen to twenty feet in the air and returned gently to the ground. I remembered being blanket tossed during my first visit and would have enjoyed it again. But the activity seemed limited to kids and young teenagers, so I concentrated on ice cream.
Not a hint of sunset shadowed the festivities. I licked my cone and fingers and clapped for the last tossed child.
"There's no place like Nome," the locals brag. Celebrate Fourth of July here and you'll agree.
And you won't miss the fireworks, either!
SIDEBAR: ROAMING TO NOME
Check out www.nomealaska.org for everything you wanted to know about Nome and its Nomites (that's the correct name!)
c. "Follow Me!" Ruidoso (NM) News 2007
Back to More Tales of EV's Adventures
---

---
Discover more about Yvonne's can't-look-away prose and pix by contacting her at
---
---