BIKING THE BIG APPLE!
While politics makes headlines in New York City this week, we outdoor adventurers are discovering the City's canyons, waterfalls, livestock, the Yankees, Edgar Allan Poe, magnificent architecture, and lots more.
To live New York as the locals do, let's join Bike the Big Apple Tours, a collection of honest-to-goodness bicycle excursions of New York neighborhoods.
Owner and tour guide Joel provides multi-speed bikes and helmets; you bring strong legs, sunscreen and a camera.
"Meet me on the corner of 145th St. and St. Nicholas Avenue," invited Joel one morning. "I'll be wearing a bright yellow jersey." Following an equipment fitting and briefing, we're off—just like delivery boys or office clerks.
Follow me!
Like helmeted ducklings trailing their yellow-helmeted, yellow-jerseyed mother duck, let's follow Joel single-file through upper Manhattan's light late morning traffic. Motorists placidly yield to bikers, banishing doubts of fateful encounters with cars and busses. "In New York, drivers are used to bicycle and pedestrian traffic," explains Joel. "One client from Dallas said he felt safer in City traffic than at home!"
BRONX CHEERING
Using the same sidewalk as pedestrians going to work or shopping, we thread across the Hudson River over Macomb's Dam to our day's goal, the Bronx. For the next couple of hours, we cycle leisurely to well- and lesser-known sites--Yankee Stadium, the Bronx Zoo, Joyce Kilmer Park, the Lorelei Statue, Secretary of State Colin Powell's high school and more--a whole lot more. School kids on recess wave and yell "Hi." We wave back, feeling like locals instead of tourists.
At each stop, Joel reaches in his saddlebag and pulls out a photo album replete with historical photos that illuminate his vivid, often humorous narrations.
"I call this the 'Surprise Tour,'" teased Joel, one morning as we parked the bikes near a tiny neighborhood meat market. Some meat market . . . . Imagine shopping for your dinner "on the hoof" where—surprise--the "meat" is still clucking, bleating or mooing! "Many Asian and Central American immigrants buy their meat this way, not wrapped in plastic," explained Joel. Customers select the chicken, lamb or duck of their choice and the butcher takes care of the rest.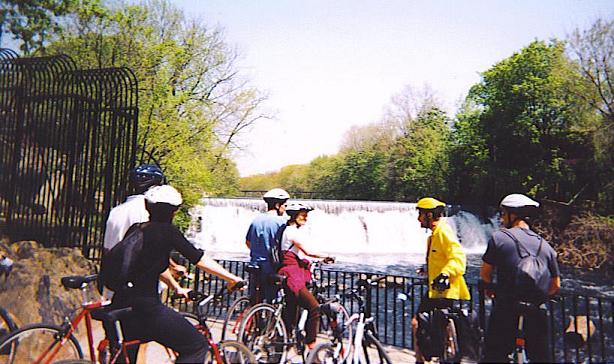 Think New York's waterfalls are only in Niagara? Surprise again. Bike with Joel and discover the Bronx Falls at the Bronx River near--where else--the Bronx Zoo.
"Next we're going to Lourdes." he announces. A few blocks later, you'll join the noon-time faithful at a sacred spring tumbling from rocks, right in front of St. Lucy's Roman Catholic Church.
While one of our bikers filled her water bottle at the spring, the rest of us wandered inside the church. Framed newspaper clips enumerated the spring's healing powers. A tiny gift shop offered religious mementoes.
"What a surprise, this isn't even listed," pointed out an English cyclist, looking up from his guidebook. "You're no ordinary tour guide."
"Of course not," Joel replied. "I lived here!" Indeed, Joel not only grew up in the Bronx but also taught high school social studies there before retiring and starting Bike the Big Apple.
POP SONGS 'N' POETRY
You'll stop for lunch in Belmont, the neighborhood of 50s pop singer Dion. "So that's why he named his group Dion and the Belmonts!" exclaimed one biker. "I listened to their music all through junior high!"
Locals shop at Arthur Avenue Market for fresh produce, meat, breads and pastries. Here you'll join them to refuel on focaccia, pizza, hero sandwiches and gelato before taking off to your last stop.
Early afternoon sun gently warmed us when we pulled over in a small park. We leaned the bikes against newly leafed trees near a white clapboard cottage. Joel pulled out a small volume of poetry and, in a softly compelling voice, began reading aloud "Annabel Lee." For this white cottage was the last home of poet Edgar Allan Poe and his "child bride" Virginia Clemm who died tragically young. As Joel read Poe's tribute to her, traffic noise faded and leaves rustled to the refrain,
"And the moon never beams without bringing me dreams. . ."
"We're going back on the subway," announced Joel, jolting us back to the 21st century. As we led our bikes through the turnstiles, Joel explained that bikes are allowed on all NYC subways for the same fare as a pedestrian rider.
Back in Manhattan, we turned in our equipment and Joel passed out maps of the day's trek. "Thirteen point four miles," he announced.
"I'll be sore tonight," observed the Canadian with a smile that belied his words.
"We'll see you the next time we come to the States," promised an English couple. "We want to see Brooklyn next—and that nighttime tour of Manhattan's "hot spots" on bikes sounds like fun!"
Lots more fun that even a political convention!
c. "Follow Me!" Alamogordo (NM) Daily News 2004
Back to More Tales of EV's Adventures