WHET YOUR APPETITE WITH SPIRIT!
* Published by Vision magazine, September, 2007
"My skin crawled, my hair stood on end, my knees wobbled and I got the heck outa there as fast as I could!"
What made Pearl Tippin skedaddle from the Museum and Information Center late one night now entices visitors to Lincoln's Curry Saloon every summer Saturday at twilight.
"People feel something when they come here and want to know more," explains a blue apron-clad Curry Saloon owner Debi Poremba as she serves hors d'oeuvres to intrigued guests.
* * * * *
"THIS WAS THE PLACE TO BE"
On a twilight walk about town, Pearl weaves history with supernatural happenings. A gentle breeze blowing through rustling cottonwoods gives no hint of the violence prevalent in Lincoln over 100 years ago when "La Placita del Río Bonito" served as the seat of Lincoln County, "which at that time encompassed one-fourth of the current State of New Mexico," recalls Pearl, a former Historic Lincoln tour guide.
"Hard to believe now, but in all of southern New Mexico, this was the place to be."
From Priest's Canyon on the town's western edge where residents still hear hoofbeats from horses that aren't there, past adobe walls "which may have been part of the town's Red Light District," across the quiet lawn where five people were shot dead during the Lincoln County War then burned in the funeral pyre that was the Alexander and Susan McSween home, behind the Post Office to the grave of Englishman John Tunstall, whose murder sparked the same War, to the museum in the middle of town, where she herself encountered what may have been the spirit of an Indian scout, gingham-skirted Pearl recounts the violence that sent these people to early graves—and present-day encounters.
Passing by the Wortley Hotel, the group stops at Room #3.
"That's my room!" squeals a surprised visitor.
Pearl smiles. "Guests in that room see a teenaged girl wearing an apron and cap dusting. When approached, she disappears. When they leave then return to their room, their things are now in different places. We call this spirit 'Lilia of Number Three.'"
Down the street, a black cat blinks in a curtained window flanked by giant brown-centered yellow sunflowers. Pearl theorizes, "Paranormal investigators who studied here say that violence can echo through years and cause things to happen."
VIOLENCE SUCH AS. . . .
. . . the little daughter of Lincoln County War's James Dolan, killed under the wheels of a carriage in front of her house. Current residents of that house hear a woman crying but see no one. "Makes you think," muses Pearl.
Or William Wilson, in 1875 hanged for murder-- twice. "After he was hanged, folks were laying him in his coffin when someone noticed his chest rising and falling. So they strung him up again, but this time, left him hanging for twenty minutes before bringing him down."
Or Susan McSween's lawyer Huston Chapman, shot by McSween enemies at such close range that "the bullet started his clothing on fire."
Or George Washington, the McSweens' black servant, who, upset by the incessant barking of a dog, shot at it."But the single bullet killed his wife and child instead."
At Dr. Woods's House, where a family had lived upstairs whose little boy died of tuberculosis, Pearl and other guides occasionally had visitors who, upon nearing the surgery room, grasped their throats, turned white, began choking and "couldn't enter that room."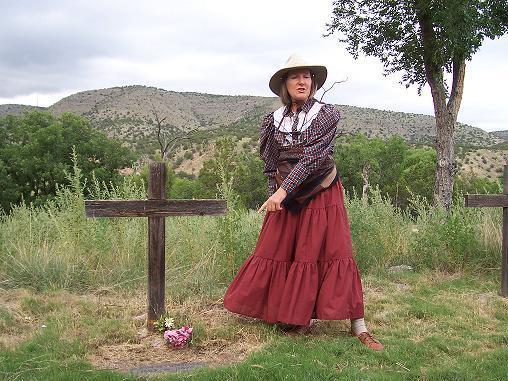 AMIABLE SPIRITS, TOO
Not all spirits result from violent deaths. In the Luna House, one of Lincoln's earliest homes, what had once been a birthing room was converted into a gift shop specializing in replicas of 19th century toys. "Many children played here back then. After the gift shop opened, the staff every morning had to replace the toy trains from off the floor and the dolls back on the shelves."
A resident of the house across the street from the Visitors' Center stepped from his shower to find an elderly lady in a green dress with white lace cuffs sitting in a rocking chair. "When he called out to his wife who was in another room, the lady looked up, startled, and then disappeared into thin air. His wife, a historian, later discovered that Dr. Woods's sister had once lived in the house and looked like the old lady."
There's more, much more, but dusk falls, so Pearl returns her visitors to the lace-curtained Curry Saloon for supper. As Debi serves steaming bowls of green chili stew, a visitor thinks of a question he forgot to ask. He turns to Pearl, but she, too, has vanished into the dark velvet night.
Award-winning freelance writer/photographer Yvonne Lanelli of Alto writes regularly for Platinum. This is her first contribution to Visions. She claims to have seen ghosts in other places, but 'I'm still looking for one in Lincoln!"
SIDEBAR: IS YOUR APPETITE WHETTED?
Call the Curry Saloon at 575-653-4873 for reservations for your Twilight Supper and Ghostly History Tour, held Saturdays at 6:30 PM. Tour and supper (hors d'ouevres, main course, dessert and beverage): $20.00. The Curry Saloon also serves lunch Tuesday through Sunday. Lincoln lies on Highway 380 twelve miles east of Capitan.
c. Vision magazine, September, 2007
Back to More Tales of EV's Adventures
---

---
Discover more about Yvonne's can't-look-away prose and pix by contacting her at
---
---