LAST FRONTIER MEDICINE MEN & WOMEN:
HEALTH CARE IN THE WALRUS CAPITAL OF THE WORLD
AND THE VILLAGE NEXT TO TOMORROW
* Published by Wilderness Medicine Winter 2007
Barefoot children splashing in ocean waves, folks out for an afternoon drive. A typical small town summer day. But in this community, the kids are splashing in waves only a couple degrees above freezing and the family drives around in an ATV.
Welcome to Savoonga, on Alaska's St. Lawrence Island in the Bering Strait, the self-styled "Walrus Capital of the World." Here, approximately 700 Yup'ik Eskimo live as their ancestors did—harvesting marine animals such as walrus, seal, and whale, an activity referred to as "subsistence living." Unlike Native peoples in the Lower 48 (an Alaskan term for the contiguous 48 states), Native Alaskans do not live on reservations.
On July 3 as locals prepared for a big Fourth of July celebration, business at the local health clinic was keeping five Community Health Aides (CHA) busy. "Our PA (Physician Assistant) that we share with Gambell (another Yup'ik community on the island) is out today."
Nevertheless, when WMS member Pierre Guibor, MD, arrived with the expedition cruise ship Clipper Odyssey, they graciously showed him their facility, which is affiliated with the Norton Sound Health Corporation.
Two exam rooms and a pharmacy take care of general health problems such as common colds, ear infections, and bronchitis. "We see a wide variety of problems, but not much TB (tuberculosis)," said one CHA, "but we see a lot of pneumonia and ATV accidents." With no cars or trucks in Savoonga, ATVs and bicycles in the summer and snow machines in the winter provide the only transportation. Visitors observed only one ATV rider (and no one on a bicycle) wearing a helmet.
The Clinic does minor surgery. However, major surgeries as well as emergencies are flown to Nome, a process which can take as long as five hours. In addition, all OBs are sent out—low-risk to Nome 167 miles away and high-risk to Anchorage—by plane.
Clinic staff has noted a trend in their village. "Younger and younger people are starting to smoke." And although St. Lawrence Island is legally dry, "some people bring it in illegally, so we have alcohol-related problems, too."
Each aide sees approximately 7-8 patients per day during the 5-day week. At the time of this visit, the X-ray machine wasn't working and there was no lab. "We have plans for a new clinic to be built next summer. Our community is growing!"
LITTLE DIOMEDE
"Our community is over 2,000 years old," proclaimed one proud resident of the Inupiaq village of Little Diomede, Alaska. "And tomorrow is across the Strait."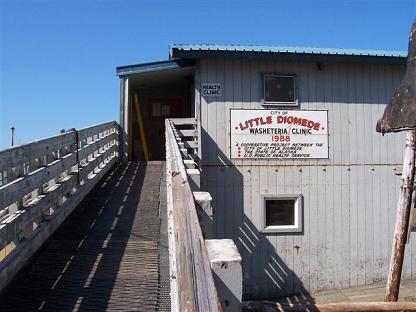 Like the Yup'ik residents of Savoonga, the Inupiaq also continue their native culture by harvesting marine mammals from the Bering Sea.
Unlike flat Savoonga, however, Little Diomede, population 140, rises nearly straight up a rocky hillside. Villagers clamber up and down steep rocky paths, not sidewalks or streets, that connect the village's 30 or so buildings—general store, post office, church, school, residences and clinic. Visitors marvel how a community has survived and thrived on the edge of the Bering Strait, a few hours sailing from the Arctic Circle—and only two and a half miles from Big Diomede, Russia, where it's already tomorrow.
"The International Date Line runs right out there," explains resident Andrew Kunayak, Jr., gesturing to the sea. He escorted Dr. Guibor through the village, past racks of drying oogruk (bearded seal) to the Village of Diomede Health Center for a quick visit.
Summer sun shone July 5 "for the first time this summer!" proclaimed an enthusiastic Suzy Iyapano of the Village of Diomede Health Center as she welcomed Dr. Guibor. "Our two health aides provide general health care to our community of about 140. We do basic lab work, but some labs are air delivered to Nome for analysis. No X-rays, though. Serious cases are medevaced to Nome." She gestured to the adjacent heli-pad where residents eagerly awaited the mail 'copter.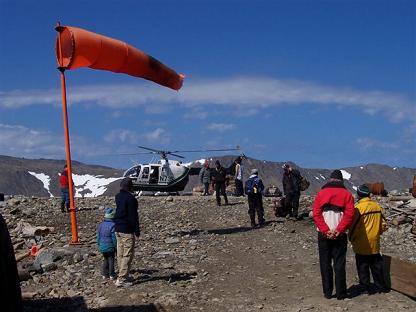 "In the winter, we use snow machines to shuttle to an airstrip on the ice after it freezes," added Andrew. Winter temperatures average minus 30 degrees F, he noted.
As Dr. Guibor's cruise ship departed Little Diomede's anchorage, he reflected on the quality of health care available to Savoonga, Little Diomede, and other isolated Last Frontier communities. "All of the medical stations provide basic medical care to the local communities. Some have basic X-rays and ultrasound studies available; anything requiring specialized care can be handled by teleconferencing with Nome. Special chemistries and patient transfers may be obtained within 24 hours by helicopter, depending on the weather. Clouds, rain, sleet, and snow and ice are major logistical factors in air and sea transportation in this part of the world. Sometimes hours turn into days or days turn into weeks in delay. OB cases are sent out to Nome by air at 32 weeks, however, there is an occasional unplanned premature delivery in the clinic or homes. And dental care is difficult to obtain. Many of the adults are missing most of their teeth."
Remembering the warm welcomes he received, he emphasized, "The medical health care personnel—mostly local villagers—are responsible, attentive, and friendly. They have my respect."
Would you like to be a Last Frontier Medicine Man or Woman?
For further information contact:
The Village of Diomede Health Center at 907-686-2201;
The Savoonga Health Center at 907-984-6984;
or The Adak Health Center at 907-592-8382.
For employment information,
contact the Norton Sound Health Corporation
at jobs@nshcorp.org, 907-443-4525;
or jobs1@nshcorp.org, 907-443-3305.
c. Wilderness Medicine 2007
Back to More Tales of EV's Adventures
---

---
Discover more about Yvonne's can't-look-away prose and pix by contacting her at
---
---