LIONS, HIPPOS AND CHAMPAGNE!
BALLOONING OVER THE SERENGETI
Third Place Winner Sports Category in New Mexico Press Women Communications Contest, 2008.
Published in "Follow Me!" by the Ruidoso News, Friday, September 28, 2007

Two African lions shone golden in the sun's earliest morning rays. Neither moved until a loud whoosh erupted above. One lifted his dark-maned head, blinked once then lowered it.
These big cats thought nothing of the giant hot air balloon floating overhead.
The balloon's occupants, however, couldn't contain their excitement.
FOLLOW ME TO THE SERENGETI!
Balloon enthusiasts around the world flock to Albuquerque's Balloon Fiesta next week. Before you head north, follow me south--to Africa.
We're ballooning in Tanzania, on the famous Serengeti Plain!
A DATE WITH WILDLIFE AT DAWN
In equatorial Africa's chilly pre-dawn, thirty-two sleepy adventurers watch balloon crews fill two balloon envelopes with ambient air.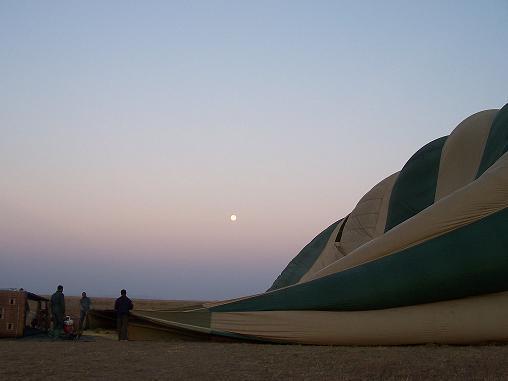 Like fantasy creatures, the green and yellow nylon envelopes swell over 100 feet long and lie on their sides, ready for passengers and propane burners to warm each envelope's air.
Pilots Nigel and Mohamed divide the adventurers into two groups of sixteen and direct each group to his balloon.
You and your companions Betty, Lynn, Larry, Ilene, Josef and Bruce join Mohamed at his balloon named Simba.
"Each balloon carries sixteen passengers in eight two-person compartments," explains Mohamed. "We board the basket while it is on its side. Place your camera on your chest, lie on your back, hold onto the handles—and relax!"
Everyone slides easily into the double compartments of the giant wicker basket and faces the dawning sky. Mohamed fires the burners, producing noise and welcome warmth. "I'm glad I'm next to the burner," jokes Ilene when the noise subsides.
Simba gently departs the brown brushy sand of the Serengeti Plain.
GOLDEN LIONS . . . .
"OK, you can stand up now," announces Mohamed.
We scramble up to catch our first glimpse of sunrise over the shadowed Serengeti.
"Look how high we are already," exclaims Betty. "Ooh, the sunrise!" Her camera aims at the red sun barely peeking above nearby hills.
"Which direction are we going?"
"How big is Simba?"
"Look, there's the other balloon!"
Passengers pepper Mohamed with questions. He answers cheerfully while eyeing many gauges and firing burners.
"It's funny to see birds below us," comments Bruce as iridescent starlings wing a hundred feet below. He focuses his 400mm lens for a detailed shot.
"There's no wind," marvels Ilene. "We can talk in normal voices."
"What animals will we see?" asks Larry.
Mohamed looks down. "There's a lion right there."
Telephoto lenses leap to attention, zooming in on two large lions, golden in the pinking sun. The lions stretch like awakening housecats, ignoring the balloon, noiseless but for sixteen clicking shutters.
Salmon-colored sun reveals dirt roads and game trails crossing the vast plain, as far as one can see.
"To the south is Ngorogoro," says Mohamed, waving his arm in one direction. "Lake Victoria is 200 kilometers over there." He waves west.
"The Great Migration starts at Ngorogoro and goes to Masai Mara. Over 1.5 million wildebeest and zebra are estimated to migrate every year, depending upon the rainfall. We fly over the migration trails."
. . . HIPPOS, GAZELLES, GIRAFFES. . .
Simba flows over the sinuous Seronera River where palm trees shelter clusters of partially submerged hippos. "Hippos huddle together for warmth before the sun comes out."
"I got a picture of the hippos and the other balloon," announces Betty gleefully. Simba's sister balloon Chui floats a quarter mile away.
Mohamed's two-way radio crackles. He responds. Seconds later, the chase vehicle bearing the ground crew kicks up a dust cloud in our direction.
"We're 5,000 feet above sea level and 400 feet above the ground," announces Mohamed as we drift over a large open area where a herd of gazelles graze.
"Gazelles like open areas to see enemies better. When grass grows tall, gazelles leave."
Two jackals and a hyena amble among the gazelles. The quiet balloon descends close enough to distinguish their distinctive markings—a black line along the tan body and white above the rump.
"A Thomson gazelle," you announce without looking through binoculars.
The wind shifts north. Mohamed eyes his gauges and fires the burners. A Cape buffalo raises its massive head with resplendent curved horns.
We rise; the gazelles become tiny white spots.
. . . . AND MORE!
Baboons and vultures perching in balanite trees ignore our silent flight. Birds--a plover, baby Egyptian geese, white-headed buffalo weavers, lilac-breasted roller and superb starling—fly unconcerned beneath us.
Simba dips down and skims the top of a flat-top acacia. A tawny eagle fixes his eagle eye on us but doesn't flinch. Masai giraffes browse the acacia's leafy tops "but not the flowers," reminds Mohamed.
A warthog family scatters. A male and female ostrich run together. Impala graze.
"A baby giraffe," squeals Betty.
"Take your landing positions," announces Mohamed, bringing our fantasies down to earth—literally. We stow our gear and prepare for a lateral landing.
Simba kisses the ground. We scramble out. The chase vehicle crew, already in position, empties the balloon envelope and stows it.
SUMPTUOUS SPREAD ON THE SERENGETI
A familiar "pop" turns your gaze to a turbaned server offering flutes of champagne, the traditional drink of ballooning. He gestures to long tables covered with green and white linen and set with china, Sheffield cutlery and stemware.
How did all that fit into the chase vehicle?
Plates of fruit, eggs, English sausages, grilled tomatoes, pastries, juices, hot coffee and more champagne reward your dawn adventure. "I feel like the Maharajah's guest," sighs Josef, draining his second flute.
Yes, the ambiance is of a hundred years ago. Beneath acacia trees filled with weaverbird nests, we breakfast like Edwardian guests, in the middle of Absolutely Nowhere.
This is ballooning in Africa.
c. "Follow Me!" Ruidoso (NM) News September 28, 2007