Desert Diving Surprise
* Winner of Writing for the Web category in the New Mexico Press Women's Communication Contest, Second Place in the National Press Women's Communication Contest. Published by DesertUSA.com September 2005.
Judges commented, "Great lead, colorful, informative . . . . "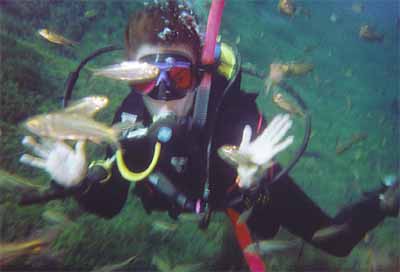 Hundreds of small shiny fish no more than two inches long swirled around the scuba diver. Through her mask, she could see nearly forever into sunshine-sparkled water. Along the smooth-pebbled bottom, a turtle the size of a Thanksgiving turkey platter cruised in slow motion. She snapped him with her submersible camera. A juvenile catfish swam up to her outstretched finger and nibbled inquisitively but harmlessly with its baby teeth. The diver laughed out loud, nearly spitting out the mouthpiece that supplied her air 20 feet underwater. Why did she laugh? Because she was diving – not off some sunny Caribbean island – but in the desert of West Texas.
Say "scuba diving," and the Chihuahuan Desert of West Texas certainly doesn't leap to mind. Sure, the joke goes, lots of sand but no beach. Nevertheless, hundreds of scuba divers – as well as swimmers and snorkelers – splash in the artesian San Solomon Springs that moisten the desert between El Paso and Fort Stockton at Balmorhea State Park in Toyahvale, Texas.
It's a hot haul across Interstate 10. Most folks speed along in an air-conditioned hurry to the next big city. Little do they realize as they whiz past Exit #206 what they're missing less than an hour off the freeway on Texas Highway 17: 46 grassy acres, towering cottonwoods that shade canals, wetlands, and an immense (1.75 acres) enclosed spring-fed pool. Twenty-eight million gallons a day of brisk (74 to 78 degrees Fahrenheit) water enrich this playground of friendly finned critters and fun-seeking Homo sapiens who cavort like wetsuited seals in San Solomon's vodka-clear waters.
Call it oasis or paradise; scuba divers call it fun!
Delightful Dunking
"I like that I can gear up on clean concrete instead of mud or sand," said one enthusiast, preparing for a dive. "And there's so much to see – catfish, pupfish, gambusias, sunfish, minnows – even crayfish and fresh-water snails. My favorites are the Mexican tetras that swim right up to your mask—and the turtles! Get in the water early before the crowds and you'll see them, too."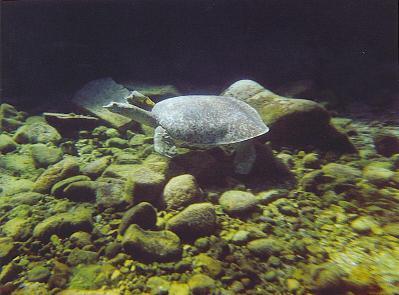 Comanche Springs Pupfish (Cyprinodon elegans) and Pecos Gambusia (Gambusia nobilis) are both endangered species. Park waters form a protected environment for them as well as other non-game fish and Texas soft-shelled spiny turtles.
Later that day after the sun dropped behind the Davis Mountains, other divers geared up for a night dive. "I love the way tank lights and flashlights glow in the dark water, really eerie. And at night you see the animals that are too shy to come out in daylight—turtles, pupfish, crayfish," said one student earning her PADI (Professional Association of Dive Instructors) Night Diver certification.
To call Balmorhea State Park a popular dive site is an understatement. "From Labor Day through Memorial Day, which is our low season, we have as many as 10 different dive operations here every weekend. Each of them brings groups of 10 to 15 dive students," said Brenda Contreras, office manager at the park.
Toyahvale Desert Oasis is the local dive operation, offering air fills and PADI certification courses. But many dive operations from west Texas and New Mexico also find the friendly waters of San Solomon Springs ideal for certifying divers from entry level (Open Water) to specialties such as Rescue, Photography, Videography, Naturalist or Night.
Terry Davis, PADI instructor and owner of Inland Scuba Divers in Roswell, New Mexico, 200 miles and a three-hour drive away, has been certifying divers at Balmorhea since 1987. "We like the year-round constant water temperatures, great visibility – 80 to 100 feet – and it's not too deep for Open Water [beginning] students."
Adds Siri Rustebakke, co-owner of Dive Quest Scuba in Las Cruces, New Mexico, seven hours west, "At only 20 feet deep, it's a comfortable environment for new divers. It is also a Texas State Park and is generally well maintained. There is lodging inside the park at reasonable rates."
Bert Erickson of Sandia Snorkel and Scuba and his dive students drive eight hours from Albuquerque, New Mexico, to certify in Balmorhea's predictable conditions. "I remember one January 4th, a few years back. A sheet of ice covered the roads from San Antonio, New Mexico, to San Antonio, Texas. But at Balmorhea, the 76 degree water felt balmy warm in the 28-degree wind."
History, Birding, stargazing and More
Not diving? Check out the San Solomon Cienega, reconstructed desert wetlands and canals, a refuge for indigenous aquatic, fowl and amphibian life. You may also spot the famous horned toad here, too. Looking like miniature dinosaurs, horned toads are actually lizards (reptiles), not toads (amphibians), and three species that live here – the mountain short-horned lizard (Phyrnosoma douglassii hernandesi), the roundtail horned lizard (P. modestum) and the Texas horned lizard, aka "horny toad," (P. cornutum) – are endangered and protected.
Hankering for drier fun? The area around Balmorhea State Park is chock-full of history. Paleo-Indian people camped near these springs thousands of years ago. Spanish explorers arrived possibly as early as 1583. Soldiers stationed at nearby Fort Davis visited the springs in the 1800s. Mexican farmers gave the waters their current name, San Solomon Springs.
Birders flock to the Park for sightings of phoebes, rails, kingfishers, sparrows, quail, wrens, hawks, pigeons, hummingbirds, roadrunners and many others.
Stargazers take advantage of clear desert skies at nearby McDonald Observatory.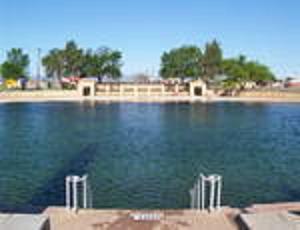 "I like to refer to diving San Solomon Springs as the only dive site that provides entertainment for the whole family. One can swim, scuba dive, snorkel, sunbathe, bird watch, picnic, play in the playground, sit under a shade tree by the springs, camp, enjoy the beautiful sunrises and sunsets and motel or RV it. I could go on and on but I think this paints a pretty good picture." The enthusiastic speaker is Neta Rhyne who, with her PADI instructor husband Darrel, own and operate Toyahvale Desert Oasis, the dive shop next door to the park.
"The San Solomon Springs emerge into the world's largest spring-fed open-air man-made swimming pool," said Rhyne. "The pool is located within the Balmorhea State Park in Toyahvale. Toyahvale has a lot of history (our post office is over 100 years old) but unfortunately, because the state park is named Balmorhea State Park, the park location is commonly referred to as Balmorhea, Texas. Balmorhea, Texas is four miles east of Toyahvale."
Thanks, CCC
In the 1930s, the Civilian Conservation Corps (CCC) established a camp at the 1.75-acre swimming pool and built concession buildings and a park residence. They enclosed and sculpted the pool into a 200-foot circle over the spring and two long tangents (389 feet and 180 feet long) that form a "V." At the end of one tangent, the depth is only three feet, so it's a popular area for swimmers and children. The entire area is lined with limestone and bordered with flagstone paving.
From the entrance, the area resembles a giant swimming pool. But step closer, peer into its depths and you'll see – not swimming pool floor tile – but the natural spring bottom replete with aquatic vegetation and the occasional darting fish. You can't wait to jump in!
And when you've dried off for the day, the desert night is yours to enjoy. Mellow night air tempers daytime heat. No big city lights obscure stars shining through unpolluted air. The spring rumbles a soft background for night birds' calls. Small nocturnal animals scurry from brush to bush. As dawn rises, more birds call and the morning breeze brings a waft of mesquite perfume.
Diving in the desert? It's not a joke after all.
c. DesertUSA.com 2005
Back to More Tales of EV's Adventures
---

---
Discover more about Yvonne's can't-look-away prose and pix by contacting her at
---
---