SEVEN EL PASO SURPRISES!
* For Enchantment magazine Summer/Fall 2006
Roses in the desert? The First Thanksgiving? Missions older than California's? Ghosts? Two countries and three states? How about cormorants, gulls, even a pelican or two frolicking hundreds of miles from the ocean? Or secret spots to take the best pictures?
Uncover seven of El Paso's surprises as guests of Rudy and Kay Johnston, enthusiastic owners and operators of Border Sights Tours of El Paso.
"Visitors can't believe what happened here," say the Johnstons, who delight in sharing area sights and local historical lore.
Such as celebrating the first Thanksgiving in—April? "Yes, indeed," replies Kay on a recent Mission Trail Tour that wound through El Paso's Lower Valley toward Mission Ysleta, Mission Socorro and Chapel San Elizario. "The first Thanksgiving was celebrated in the El Paso area about twenty-five years before Pilgrims landed at Jamestown. In April of 1598, an advance party of the Don Juan de Oñate Expedition reached the Rio Grande at what is now San Elizario or Fabens; these colonists had trekked for months up the Chihuahuan Desert from Santa Barbara, Mexico. At that time, the river area was rich in grass, 'deep as a horse's belly' and game was plentiful. Imagine how grateful they must have felt to find this paradise. Naturally, they gave thanks!
"We're driving on part of the old Camino Real Trail," continues Kay. Our imagination conjures up oxcarts and horsemen on rutted trails now covered with asphalt. "The Ysleta Mission dates from 1680 which pre-dates the California missions by nearly 100 years. It and Mission Socorro are examples of Indian and Spanish—not Mexican—architecture. They still serve the community with mass, plus welcome visitors to Indian dances and the Spanish Market." (See Sidebar: 17th century Friar.)
Time traveling ahead to the late 1800s and early 1900s, we now stroll through Downtown El Paso for glimpses of early frontier days. Kay points out a second-story window above a busy store. "That was John Wesley Hardin's law office. He educated himself while in prison for killing a deputy Sheriff and had at least 40 dead men to his credit." A few blocks later, we stop at a plaque on the wall of yet another store. It identifies this site as the old Acme Saloon where Constable John Selman killed Hardin in 1895 by shooting him in the back of the head. "Excellent judgment" reads the plaque.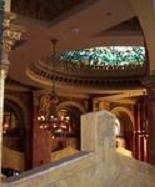 Think early El Paso was just about shoot-em-ups? Hardly. El Paso has a 25-foot wide stained glass dome built by Louis Comfort Tiffany inside the Camino Real Hotel, built in 1912. "Tourists usually photograph the Dome by standing right below it. Let me show you a different angle." Kay leads the way up a secluded staircase and gestures. Photographers in the group gasp with delight--the Dome is reflected in giant mirrors! With one click, cameras capture two views of the Dome as well as the antique chandeliers.
As we walk through the plaza toward the former Cortez Hotel and its elaborate façade, Kay tells of entrepreneurial Alzina Degraff, its early twentieth-century owner who secured a $1 million loan on her signature. Kay then shared her personal memories of the landmark. She gestures to a wrought iron balcony with double glass doors. "In 1960 John F. Kennedy stood on that balcony and spoke to the crowd on the sidewalk below. I was a high school freshman standing ten yards away. When he came out on that balcony, it was like magic—he was gorgeous! Navy blue suit, a neon smile you could see a block a way, his red hair shining like a copper penny. When the wind blew it into his eyes, all the women sighed . . . I wished I could vote!"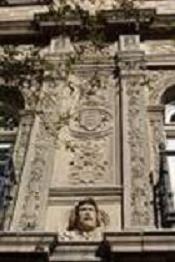 Our van stops at the Magoffin Home State Historic Site, the 1875 home of Joseph Magoffin, a four-time mayor of El Paso. We listen politely to Kay's narrative of the mayor's accomplishments, but it's the ghost-on-the-lawn story that jerks us from our reverie. It seems group of junior high students were sitting on the grass listening to the docent. A young girl got up and hurried to the other side of the lawn but did not sit down. After the docent had finished, she asked, "Who was the lady in the blue dress standing next to edge of the house?"
The docent replied, "She's one of the ghosts that frequent the house, 'Tia' ('Auntie') Octavia Magoffin Glasgow, the last family member to live in the house. She appears wearing a blue ball gown, usually outside in the gardens. 'Uncle Charlie,' Charles Richardson, is a mischievous spirit who likes to move objects around and rock the rocking chair where he died. Another sprit Rose White appears looking out a bedroom window toward the street."
After history and ghosts, it's time to smell the roses, the El Paso Municipal Rose Garden, that is. On the corner of Copia St. and Aurora Ave., this two-acre garden nurtures over 300 varieties of roses amid tall palms, evergreens, benches and a two-tier cascading fountain. "The best time to visit is before June or in September for the second bloom."
Another desert surprise--shore birds live here. "Yes, El Paso has wetlands!" Over two hundred different birds have sheltered in the wetlands at the Keystone Park and El Paso Botanical Gardens. Located on El Paso's west side, these naturally occurring wetlands provided a home 4,000 years ago for archaic Native Americans. Today, an on-going project is to protect the archeological site and restore the wetlands habitat.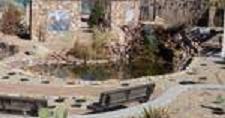 From the wetlands, it's only a short drive to another unique spot, a point where two countries, the United States and Mexico, and three states, Texas, New Mexico and Chihuahua, meet near Mt. Cristo Rey. Kay points out a marker in the middle of the Rio Grande. Look on the hillside, and you can see the International Marker that designates the boundary between the US and Mexico. These markers go all the way to the California border.
Bonus surprise! As fast as you can say, "state line," you're in Sunland Park, New Mexico, home of Sunland Park Racetrack and Casino and the future home of Western Playland ™, a themed family amusement park formerly located in the Ascarate area of El Paso but slated to re-open here in late May.
As the Border Sights van drops us off at our hotel, we can't believe how many surprises we discovered today. How many more will we uncover tomorrow?
Border Sights Tours of El Paso
Kay and Rudy Johnston
915-533-5454
bordersights@aol.com
http://bordersights-tours-of-elpaso.com/
SIDEBAR: 17th Century Friar
At La Mission de Corpus Christi de Ysleta del Sur, a brown-robed cleric waved at us, his rope belt swinging back and forth. Father Charles McCarthy, looking exactly like a 17th century friar except for his black leather dress shoes, enumerated the feast days when the Tiwa Indians perform their pre-Christian agricultural dances. "June 13, St. Anthony Day, is the biggest dance because St. Anthony of Padua is the patron saint of this mission. There's also the Feast of St. John the Baptist on June 24, the Feast of Sts. Peter and Paul on June 29 and St. Anne's feast on July 26. During Christmas season they dance at midnight Christmas Eve, at morning mass Christmas day, the feast of the Holy Innocents December 28—that's when the children dance, the Feast of Mary, Mother of God on January 1, and Epiphany, January 6."
c. Enchantment 2006
Back to More Tales of EV's Adventures
---

---
Discover more about Yvonne's can't-look-away prose and pix by contacting her at
---
---