THE ULTIMATE CHRISTMAS SHOPPING SAFARI!
* Published in "Follow Me!" by the Alamogordo (NM) Daily News Friday, November 25, 2005
Just when you think it can't get any better, it does.
Last Christmas, you followed me to Panama City where we holiday-shopped with my Costa Rican friend Carla, aka The Extreme Shopper. In the multi-acre outdoor mall of Los Pueblos we found quality goods from around the world, local treasures, delicious refreshments and unbelievable bargains—using American dollars as local currency.
Not surprisingly, we've returned to Panama City for the unofficial start of Christmas shopping. But—surprise—it's not Los Pueblos.
Hold onto your plastic, Fellow Shopping Adventurers, we're going on an even bigger shopping safari. Follow me to Albrook Mall!
Albrook Mall is a multi-story, multi-building, enclosed shopping empire. Adjacent to the Mall is a domestic bus terminal with connections to and from nearly every town in the Republic of Panama. Banks of public telephones, Internet cubicles and ATM machines cater to travelers.
Stephanie, a former New Mexican who relocated from Albuquerque to Panama City, joins Carla to lead our shopping safari. "I'm decorating my newly- remodeled condo and shopping for household items," she says. We head for the upscale department stores, Conway and Stevens. Comparable to Macy's or Dillard's, these elegant stores offer everything from furniture to fashions.
While Carla and Stephanie consider dining room sets, you wander over to Housewares and spy a set of Corning ware-style cookware for $9, a set of dishes for 8 for $5, lace tablecloths for $4, and a Santa Claus cookie jar for $4.
Back in the Mall, you stroll past Payless Shoe Source, Victoria's Secret, United Colors of Benetton, Timberland and Beverly Hills Polo Club. "Just like the malls in El Paso or Albuquerque," says Stephanie with a happy smile.
Christmas decorations inspire shoppers with "el alma de navidad"—the spirit of Christmas. "Cascabeles" ("Jingle Bells") and "Noche de Paz" ("Silent Night") serenade us as we stroll past twinkle lights and tinsel-topped store fronts. Decorated Christmas trees whose tops reach nearly to the second story, "snow-capped" Victorian villages and bigger-than-life Santa Clauses dominate mall intersections.
At Titan Dept. Store, comparable to Mervyn's, Stephanie finds a steam iron for $3.99. You pick up a package of 20 plastic clothes hangers for $1—better than the Dollar Store back home!
Beverly Hills Polo Club advertises knit shirts for $13 and jeans for $12. Conway's costume jewelry sale entices Carla. She picks up ten sets of sparkly holiday earrings for $1 a pair, perfect for Saturday's party—and for stocking stuffers.
How about a party outfit to go with those earrings?
"BMB!" Carla and Stephanie reply at once.
BMB sells seconds of designer goods such as Donna Karan, Yves St. Laurent, Liz Claiborne, Anne Klein, Jones New York and others. Carla heads for the men's department to shop for her husband, father and two brothers. You score a lined silk Anne Klein skirt originally priced at $115 for $15, a $55 Liz Claiborne silk top for $15 and a $95 YSL bag for $25.
The rest of the morning passes in a blur of bargains—makeup, hardware, electronics, kitchen and gardening appliances, sportswear, shoes, porcelain figures. When you finally stop at the Food Court for a late lunch, everyone's arms overflow with shopping bags.
"Good thing private cabs are only $5," sighs Stephanie from beneath a mound of packages. "Santa's reindeer couldn't do it cheaper!"
Lunching in Albrook takes on a carnival atmosphere. Lining the walls of the football field-sized Court are Pizza Hut ™, KFC ™, McDonalds' ™, Dunkin' Donuts, ™, Wendy's ™ and Popeye's ™. Star's, a Starbuck's ™ look-alike, serves up a hot caffeine jolt. At $1.65 a cup, it's the only non-bargain you've seen so far. And right in the middle, a merry-go-round, a huge colorful carousel giving free rides on brightly painted horses, unicorns, lions and other fanciful animals.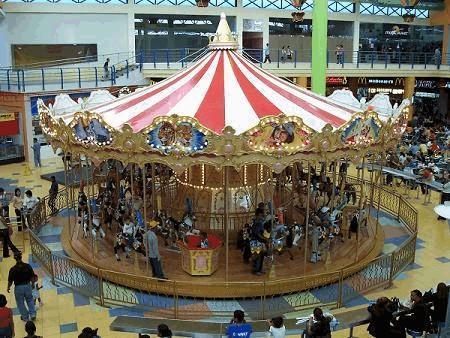 Passing up the US franchises, you opt for a local fast food counter, El Chichemito. Steam tables display local dishes--meat wrapped in either cornmeal or yuca (a root vegetable popular in the Caribbean and pronounced "you-ka"), empanadas de maiz (deep-fried cornmeal-wrapped turnovers) and the usual beans and rice. Lunch with drink: less than $2.
As the final bite of empanada disappears and everyone relaxes with a tall glass of limonata (lemonade), Stephanie reveals why she loves shopping at Albrook.
"First, it's enclosed, unlike Los Pueblos. And there are so many stores to choose from including Super 99, the grocery and discount store."
Blonde, blue-eyed Stephanie is a former model and loves fashion. "Shoes are a bargain here and very stylish--my favorite thing to shop for! I found designer shoes for only $16.95. But clothing nearly impossible for me as I'm 5'11", but if you're a size 4, the sky's the limit. I now have a personal seamstress that will make my clothing very reasonably and her work is haute couture."
Household goods are also real bargains. "At Albrook, you'll always find something that you didn't see the last time as merchandise turns over frequently."
Her overall impressions of shopping in Panama? "Prices on most items are less expensive than the States but rattan furniture and unique items are quite expensive here--something I wasn't expecting."
Adds Carla, "Computers are better priced in the States, too."
What wasn't a bargain? Stephanie laughed and replied, "I don't purchase unless it IS a bargain! Furniture and food are quite expensive here. You think produce would be good, but it isn't and there aren't any open mercados for fresh produce. But I've lived here less than a year and I'm still discovering places."
After lunch, you stroll past Cinemark Movie-plex, where "Legend of Zorro" is playing in English and Spanish for only $2. But you need to catch up on your e-mail, so while Stephanie and Carla grocery shop at Super 99, you cross under the covered walkway to the bus terminal for Internet and telephone services.
An hour of Internet costs only $1, a bargain for Christmas greetings!
SIDEBAR: FROM MILITARY TO MERCHANT
Before the US military left the Canal Zone in 2000, Albrook was a US Air Force Base. Today, the base is now the Gelabert Albrook National Airport for domestic flights. The entire Albrook area has been rebuilt into an upscale residential and commercial area.
c. "Follow Me!" Alamogordo (NM) Daily News 2005
Back to More Tales of EV's Adventures
---

---
Discover more about Yvonne's can't-look-away prose and pix by contacting her at
---
---