A GRAND HIKE FOR A GRAND PRESIDENTS' WEEKEND!
* Published in "Follow Me!" by the Alamogordo (NM) Daily News Friday, February 17, 2006
A chilly morning breeze sneaked under the visors of our baseball caps. Despite Arizona's spring sunshine, we shivered as we leaned against the cold iron railing that marked the end of this point on the hiking trail.
But it wasn't just cold that made us shiver. It was the see-forever view that blasted our eyes like a visual thunderbolt. . . .
* * * *
FOLLOW ME TO THE GRAND CANYON!
It's not called Grand for nothing, this 277-mile long and 4,600-foot deep gash in the body of Arizona's high desert.
Ancient inhabitants believed gods lived in its multi-colored sandstone steeples. Modern visitors feel like gods as they gaze into the crevasse at the miniaturized Colorado River below.
For Presidents' Day weekend, hoist your daypack and follow me! We're hiking the Grand Canyon's South Rim Trail, starting at its east end, Pipe Creek Vista.
HIKING IN . . . LUXURY?
The eleven-mile long South Rim Trail is special. First, almost half of it is paved with certain sections wide and level enough for wheelchairs. Second, you don't have to walk the entire length.
Shuttle busses stop at all scenic overlooks. So if your legs or lungs scream for rest, a free bus answers. What luxury!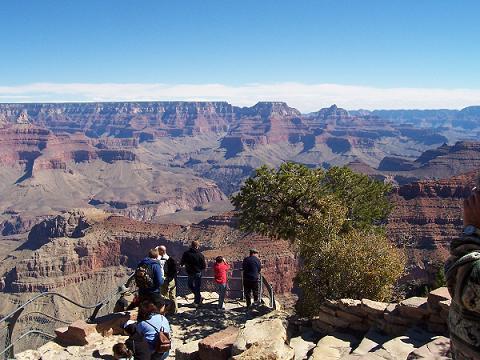 Since we have only one day to enjoy the Canyon, we'll combine walking with bussing.
Mather Point is one of the first views of the Canyon accessible by car. Visitors jostle good-naturedly for the best angle to capture the canyon's soft pinks and salmons mellowed by the mid-morning sun..
Noticing a man setting up a photo op with his family, you offer to take the picture so he can be in it. "¡Sí, por favor! (Yes, please!)" He answers.
A short walk across the street opens into the pedestrian-only Canyon View Information Plaza. One can spend all morning looking at the displays and dioramas, but there's still seven-eighths of the trail to cover.
At Yavapai Observation Station, you join a scheduled Ranger Walk. "What are the rocks made of?" someone asks in a Southern drawl.
"Mostly sandstone, shale, limestone, gneiss and schist," the Ranger answers.
"How old is the Grand Canyon?" asks a youngster.
"The oldest rocks exposed at the bottom of the canyon are 1.84 billion years old."
"Wow," says the child, puzzling over just how old that could be.
"How wide is it?" you ask.
"It varies between 8 and 16 miles."
The Ranger then discusses the 13 geologic layers that make up the Canyon. Her audience, including the little ones, listens raptly. One grown-up even takes notes.
On the bus ride to the next point, you sit across from two hikers poring over a trail map written in German. "Nein, ist der. . .(No, it's . . .)" says one to the other, and their voices trail off.
The Grand Canyon Village, midway along the South Rim Trail, sees a lot of action. Shuttle busses converge, and the train from Williams, a town south of the Grand Canyon, stops near hotels and shops.
GRAND LODGING
Hotels—El Tovar, Kachina Lodge, Thunderbird Lodge and Bright Angel Lodge—have welcomed visitors since the early twentieth century. Like Victorian grandmothers presiding over noisy children, these hotels graciously offer guests charming amenities--discreet concierge service, dining on white linen and china, gift shops with turquoise and diamond jewelry priced in four figures, and historical displays worthy of a museum.
Their multi-story rock façades do not dominate the landscape but instead blend in. Many of their rooms face the Canyon, providing ever-changing views of the same scene as sun and shadow trade places all day.
"We're booked solid for the next four months," a crisp, white-shirted clerk informs a disappointed couple at the desk.
Back outside on the Trail, a visitor motors herself around in a wheelchair, a young couple push a stroller with twins and a young family perches on the rock wall eating ice cream while consulting a brochure printed in Japanese.
You join them on the wall, pull a water bottle out of your backpack and enjoy the noon-time view, softened even more by overhead sun. You take a couple of pictures, but without a haze filter, they on't look anything like the picture postcards in the gift shop.
Shiny-winged ravens wheel directly overhead, and in the far distance, two flight-seeing planes drone.
"Allez, allez! (Hurry, hurry!)" A voice behind you calls excitedly. You turn around and find a cheeky little squirrel begging on the side of the trail. The French-speaking woman digs in her backpack and retrieves a small bag of popcorn which she scatters to the squirrel. Soon a crowd gathers and everyone offers treats to the little rodent.
TRAIL CHALLENGES
West from Hermit's Rest Transfer Station in Grand Canyon Village, the South Rim Trail is no longer paved. But shuttle stations along the remaining 5 miles promise respite.
At Powell Point, you read the memorial to John Wesley Powell, a geologist who successfully navigated the Colorado River in 1869. You smile a hello to two college-age hikers. "Ni hau, (Hello)" they reply in Mandarin Chinese and smile back.
From Pima Point to Hermit's Rest, South Rim Trail narrows and becomes more challenging, with many climbs and descents. At around 7,000 feet in elevation, the Trail daunts hikers unused to altitude.
The snack bar at Hermit's Rest advertises sandwiches, soft drinks, coffee and ice cream, all of which sound better than the granola bar and water bottle in your backpack. As you unwrap a frosty Fudge-cicle ™, a mother nearby hands her two children apples from their dad's pack. "Grazie, Mama (Thank you, Mama)," they chorus in Italian.
Another family hears them and asks in English where they're from.
"Torino, Italy," the Italian-speaking family answers. "And you?"
"We're from Switzerland," reply the newcomers, and the two families are soon engrossed in conversation.
The shuttle bus at Hermit's Rest takes an hour to return to your parked car. An older couple sitting behind you reminisces about their first visit to the Canyon 30 years ago. "No shuttle busses then, or pedestrian plazas and the Visitor Center was much smaller," the man notes.
"So were the bathrooms," jokes his wife.
"But the views haven't changed, have they?" Another older couple chimes in from across the aisle. "We spent our honeymoon here, camping at the bottom of the Canyon. We couldn't do that now, not with these arthritic knees. That hike took two days! Remember how much water we packed? Those trails down into the Canyon are so steep. This Rim Trail is lots easier for us."
"And isn't that Golden Age Passport ™ nice for folks our age," says an athletic woman two seats behind.
You close your eyes and listen to conversations that change with every bus stop: grandparents, children, students, honeymooners, vacationers—in every language and accent imaginable.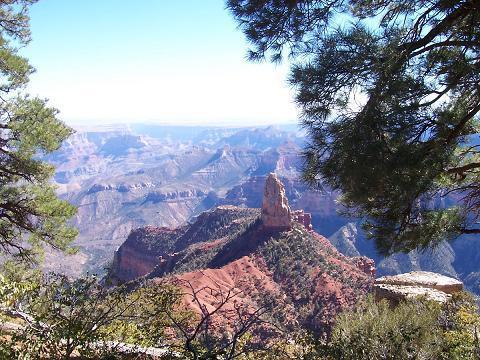 A truly grand place is this Canyon.
SIDEBAR: GRAND CHOICES
How best to enjoy the Canyon?
Mule rides, helicopter tours, ranger-guided walks, whitewater expeditions, back-country treks from rim to canyon floor—choices abound for the four billion plus who visit the Canyon annually. The least complicated, least expensive choice: a day hike along the South Rim. Check out the Grand Canyon's website http://www.nps.gov/grca/.
Park entrance fees range from $15 for entry by foot, bicycle or motorcycle or $20 for a vehicle pass (both fees good for seven days) to $50 for an annual pass. Commercial and nonprofit organization fees vary and are posted on the website. Back-country use fees for hiking into the Canyon are extra and must be applied for well in advance.
The Golden Age Passport (one-time $10 fee) provides lifetime admission to any National Park or Monument for US citizens or permanent residents age 62 or older. The Golden Access Passport (no charge) is also a lifetime pass to National Parks and Monuments, available to those blind or permanently disabled. Both Golden Age and Golden Access Passports must be applied for in person at the federal area where an entrance fee is charged.
c. Alamogordo (NM) Daily News 2006
Back to More Tales of EV's Adventures
---

---
Discover more about Yvonne's can't-look-away prose and pix by contacting her at
---
---