Ruidoso Cross Your Heart Ski Tourney
Ski race fans cheer competitors named Silicone Blowout and Scarlett O - not on an Olympic course - but frolicking, flirting and flouncing at the Cross Your Heart Cup at Ski Apache Resort in the south-central mountains near Ruidoso.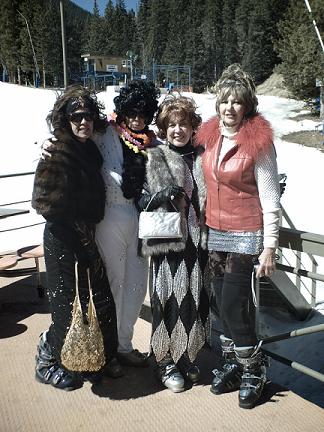 Every February during Valentine's Week, fun-loving skiers racing under pseudonyms such as A. T.(ypical) Housewife or Queen of Hearts blossom in outrageous costumes to vie for dubious honors and titles as Best Costume, Biggest Flirt, Best Boobs and Buns, Foxy Fifties, Sexy Sixties, Best Tootsie, Best Wipeout and yes, Fastest Racer.
The Cross Your Heart Cup (which disclaims association with any lingerie company) remains a females-only fun race. Medals and ribbons reward fast women whether speedy or flirty. (Guys race too, but only if dressed as women. Stalwart fellows bedecked in foam rubber, wigs and lipstick compete in the Tootsie Division, named after Dustin Hoffman's movie character.)
Cameras click and camcorders whir as delighted spectators film these bedizened beauties, each one more bosomy, flirty, slinky and daring than the last: Rasta Madonna in red-tasseled, silver-coned superstructure, boogying through the slalom course to the beat of a shoulder-held boom box; Rodeo Queen, swishing past in ankle-length prairie skirt and cowboy hat, twirling her lasso at the finish; purple-wigged Scarlett O, a Tootsie entrant, pirouetting his (her?) tightly skirted hips through the finish line; Silicone Blowout, whose declining décolletage divulged, "We've fallen and we can't get up!"
Why this spoof of ski racing, female pulchritude and Valentine romance? In 1988, local women noticed a dearth of distaff ski events. Why not create a women-and-girls-only race that recognizes humor and imagination as well as ski skills? In keeping with the event's tongue-in-cheek theme, trophies that year were cups—A, B, C and D, not Loving.
Today the Cross Your Heart Cup attracts Valentine-spirited snowplowers and licensed racers ages 6 to 60-plus, locals as well as out-of-staters. To ski or photograph this gaiety yourself, call Ski Apache's Ski School Desk.
Cross your heart and hope to win!
c. New Mexico magazine 1995
Back to More Tales of EV's Adventures
---

---
Discover more about Yvonne's can't-look-away prose and pix by contacting her at
---
---