HOWLERS, ORCHIDS, INDIAN CHILDREN AND THE PANAMA CANAL: ECO-CRUISING IN CENTRAL AMERICA!
* Published in PLATINUM magazine, Spring 2006
Afternoon sun flickers through the Costa Rican forest canopy. A naturalist-guide leading a silent group of hikers along a narrow muddy track suddenly stops, puts his finger to his lips and points into the canopy.
A roar erupts. It's the guide, Marcel, imitating a male howler monkey's bass boom.
No one laughs or whispers. He roars again.
Leaves rustle in the distance, and you hear a different roar. Your head jerks toward the noise and falling leaves. A male howler monkey is swinging toward you! He stops thirty feet above you and rattles branches menacingly.
Cameras and binoculars pop out of pockets. Marcel and the bearded simian exchange grunts. "He doesn't like his territory invaded," remarks Marcel with a wry smile.
* * *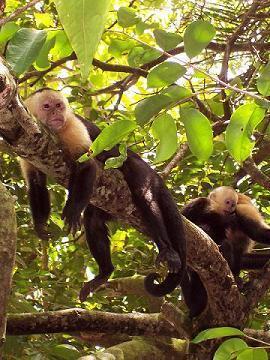 Grunting with monkeys, probing exotic flowers, adding neo-tropical birds to your Life List, getting "tattooed," playing basketball in the jungle, transiting the Panama Canal, even eating termites-- does this sound like your average cruise?
Eco-tourism is the latest buzzword in travel. Many seniors are discovering eco-tourism aboard small ships that involve their passengers rather than simply entertain them.
"We've done the big ships' Las Vegas-style shows, dressing for dinner and gambling," said Herbie and Ellie, a retired couple from New Jersey, aboard the 138-passenger M/V Yorktown Clipper of Clipper Cruise Lines on a week-long voyage to Costa Rica and Panama. They just returned from Marcel's hike in Curú Wildlife Refuge. "What fun hiking with the onboard naturalists. Watching Marcel 'talk' to that howler monkey was priceless!"
"I didn't eat the termites, though," Herbie added, then hastened to explain. "Marcel said if we ever were lost, we could eat termites for protein and carotene. He actually ate some!"
"So did I, "retorted Ellie. "They tasted like carrots!"
FANTASTIC FLORA . . .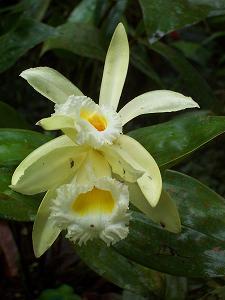 The next day the Yorktown anchored near Casa Orquídeas, a garden-park accessible only by water. Eco-tourists boarded inflatable boats to join Stephen and Dennis, the Yorktown's botany and bird specialists.
Stephen's group tasted fresh coconut whacked off a tree, tested the cannonball flower for alkaloids, learned how to use the Traveler's Palm as a water source and to locate north and south, sniffed the Chanel 5 ™ ylang-ylang flower, crushed the lipstick flower to release its reddish-orange dye, learned how a rotten apple can revive a bromeliad (orchid family), and identified the orchid from which Ben-Gay™ was derived.
"Last year, Merck Pharmaceuticals spent over $1 million in Costa Rica looking for new medicines from our plants," added Stephen.
. . . AND FAUNA
During the three days the Yorktown anchored off different Costa Rican wildlife refuges and national parks, eco-tourists trekked on walks varying in duration and intensity. Some strenuous hikes proved popular with many fit seniors.
"Hiked three miles in the mud but it was worth it," said Harry and Delores from Arizona, brown-spattered after hiking through Marenco Biological Station. "Not only did we see a fer-de-lance snake—from a distance!—we saw white-faced capuchin monkeys, blue morpho butterflies, a coati mundi, a little whiptail and two iguanas. Then we swam in a river!"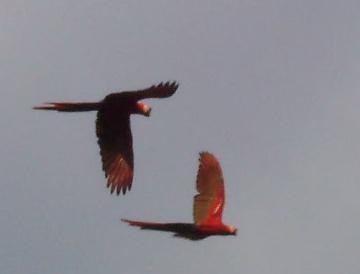 "I took Carla's gentle beach walk and we saw dolphins!" bragged 80-year-old Ruth from California. "Three of them, leaping out of the water, really close to shore. And Carla spotted euphonias, parrots, terns, petrels, magnificent frigatebirds, and hermit and fiddler crabs. We saw a lot without walking far."
Carla, the Yorktown's most experienced naturalist, replied, "You don't have to walk a lot to see a lot in Costa Rica. Our forests, mountains and coasts contain 6% of the total species of the world."
Dennis, the ornithologist, continued, "Because Costa Rica is a natural land bridge between North and South America, birds funnel through it during their semiannual migrations. We see many species here."
During the week, birders, including National Audubon Society members, sighted hundreds of neo-tropical and transitory birds such as red-capped manakin, spotted sandpiper, Inca dove, great kiskadee, rufous-naped wren, summer tanager, bananquit, fiery-billed aracari, oropendula and beryl-crowned hummingbird.
ANCIENT CULTURE . . .
At 6 AM big ship cruisers sleep in after midnight buffets. But the Yorktown's eco-tourists board dugout canoes for a trip up the Sambú River in Panama's Darien Jungle to the village of La Chunga, home of the Choco Indians. These indigenous people live very much as their ancestors did, making few concessions to modern life.
As day lightened gray dawn on the river, we spotted brown pelicans, cocoi herons, great egrets, snowy egrets, white ibis, cormorants, bat falcons, a laughing falcon, four different varieties of parrots, white-tailed trogon and more magnificent frigatebirds.
The tributary became shallower then rounded a bend where two dozen little Choco Indian children awaited us. The little girls wore sarongs of yellow, purple, red, and blue and many strands of beads; their hair washed and their lips lightly reddened. The little boys wore bright red loincloths, the ends of which dangled to their knees.
Three or four identically clad adults helped us out of the canoes. All bore bold black tattoo-like geometric designs on their faces, arms, chests and legs.
"The children will escort you to their village," explained Carla. "Practice your Spanish. But don't tip them. This is a courtesy they extend to all visitors."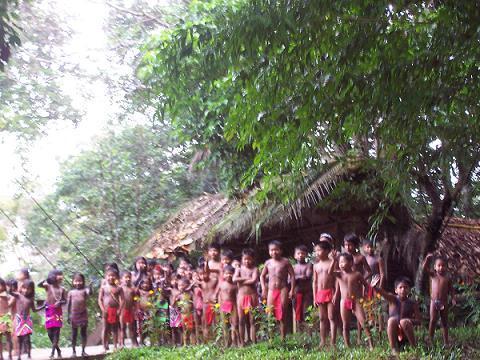 Our hands were taken by tiny warm ones and we walked the half-mile into the village, drum and flute sounds growing louder. In their thatched roof village, we watched the women dance while the men played instruments, admired and bought hand crafted masks, baskets, carved figures and jewelry, and--got tattooed?
"No, not a real tattoo," explained Carla with a laugh. "It's a vegetable dye used for ornamentation and sunblock. It should last about two weeks."
"Wait'll my grandkids get a load of this," said Sally from New York, as a Choco woman drew geometric designs on her leg and arm. "They'll think Granny's flipped! I'm not telling them it's only temporary," she added with a conspiratorial wink.
Several eco-tourists joined young Choco boys in an impromptu game of basketball. Watching her sons ages 9 and 11 team up with two Choco boys the same size, Angela from Minnesota remarked, "They'll remember this the rest of their lives. "
. . .AND MODERN MARVEL
"I've dreamed of transiting the Panama Canal since I first read about it. I'll never forget this."
It was the last day of our voyage, and Yorktown eco-tourists had experienced the engineering marvel that is the Panama Canal. "Those local guides really know their stuff. They answered every question we thought of," said Harvey from Florida, the retired engineer who had spoken earlier.
"I couldn't get over the way the locks filled with water and the boat just floated up to the next level," marveled his wife Amy. "And to think it's powered by rainwater, not machinery. Unbelievable," she added.
After a silence, the lone New Mexican commented, "We've seen it all, haven't we—wildlife, people living as their ancestors did, and today's wonder of the world. This eco-tourism idea is something, isn't it?"
The others nodded in agreement. "Definitely not your average cruise."
"Say," one of them piped up. "Where shall we go next!"
c. Platinum magazine 2006
Back to More Tales of EV's Adventures
---

---
Discover more about Yvonne's can't-look-away prose and pix by contacting her at
---
---