THE REEL THING—FLYFISHING IN CHILE'S PATAGONIA
* Received Honorable Mention in the New Mexico Press Women's Communication Contest. Published in "Follow Me!" by the Alamogordo (NM) Daily News Friday, February 18, 2005
Do you dream of casting your line into a fast running stream and pulling out a fat, wriggling trout--cast after cast? Are you hankering to wake up to the aroma of trout sizzling in bacon grease?
But it's February, you say, and fishing season is months away. Not where we're going! Follow me to Chile!
* * * *
Picture this: indigo blue lakes ringed by whipped cream-topped mountains, clear air, villages of chocolate-colored wood chalets. Switzerland?
Guess again--you're standing on the shores of Lago Verde in Chile's southernmost province, Patagonia.
Here in South America, seasons are reversed. Chilly spring winds may blow dust in Alamo, but it's late summer—and trout season--down under.
Mountain peaks so high they still carry winter's snows cradle Lago Verde, an aptly named Alpine-like jade-green lake rich with rainbow and brown trout, as well as salmon heading back to their spawning waters.
A STRIKE! . . .AND ANOTHER!
From the porch of Lago Verde Lodge, you hear splashes as fish leap out of the water. Big splashes.
You grab your gear and scramble down the wooden stairs to the dock where the lodge's rowboats are moored. "They were biting over there," offers Mike, one of the American guides.
He points to a pool nestled on the shoreline fifty or so yards away. "I'll show you," and, stepping into the rowboat, takes up the oars and heads for the likely spot.
In a few minutes, he stops and the two of you set up your lines. Mike inspects your lures and makes a suggestion. You tie it on, take your position in the boat and make a perfect cast. The water breaks gently and you begin the finger ballet of tug and release, hoping to tempt a lurking trout. Mike does the same from the other side of the boat.
Abruptly you feel a tug. So soon? You give the line a gentle pull and feel a response. This is no submerged log, you think happily, and begin the familiar tug-of-war. The game ends when a huge glittering trout breaks the surface, leaping two feet out of the water and crashing back again.
You carefully reel him in. Mike sets down his rod, grabs the net and leans over the boat to retrieve your catch. "He's a big one," Mike says admiringly, "maybe fifteen inches. He'll make a good dinner."
As late afternoon blends into early evening, you and Mike feel several strikes. Sometimes you win, other times, the native trout gets away. By sunset, you carry a basket full of fat trout, none less than 12 inches, to the lodge. Luisa, the lodge's cook, smiles when you walk in her kitchen. She already has garlic sizzling in a fry pan, waiting for your catch. "Para preparar una buena sena? (To make a good dinner?)" you ask, and she replies, "Si (yes)."
NOT JUST FISHING
After a day at Lago Verde, it's time to move on. You board a large inflatable raft and set off from Lago Verde down the Rio Figueroa.
Rio Figueroa, nicknamed "The Fig", is rafted commercially by only one outfitter, Steve Currey Expeditions. As a result, its waters are neither over-fished nor overcrowded with fishermen. Our small group has the entire river to ourselves.
For the next four days, we'll alternate fly fishing the "Fig's" clear eddies and shoreline pools with rafting its famous whitewater rapids.
WHITEWATER!!!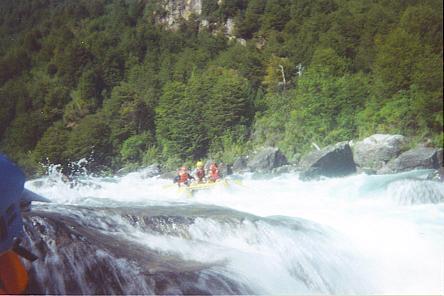 Casa de Piedras (House of Rocks) is the Fig's most difficult rapid, a Class V. You can hear its thunder long before you reach it.
By 10:30 AM guides Mike, Roy and Steve have scouted the first section of the two-block-long stretch of torrents and boulders and have decided on a line. Each raft goes one at a time. Your raft goes second. Roy captains it. You adjust your helmet, grip the oar firmly and wait for Roy's instructions. You hope you can hear him above the water's roar.
"Let's go," says Roy, and the raft swings into the current. "Forward," orders Roy, and you and your rowing partner obey in unison. The raft rises against a boulder and Roy orders, "Left!" Only the left side of the boat rows and the raft swirls neatly away.
Roy sits behind on a higher seat, steering with a giant oar. You can't see him but you sense his straining muscles as the raft races around boulders, avoiding whirlpools and sucking backwashes. For what seems like hours but is only a few minutes, Roy steers, barks orders and you obey blindly. Cold water drenches you and fills the raft, but you ignore it, concentrating on keeping the raft in line.
Suddenly it's over. You're in calm water. Someone yells, "We did it! High five!" And everybody clicks their paddles overhead.
THIS IS ROUGHING IT?
It's late afternoon when all rafts have cleared the rapids and the gear has been stowed. Your muscles ache and all you want is a hot dinner and warm bed. But you're not at the lodge anymore. Now deep in the forest, you expect to rough it, right?
Wrong!
When you crawl out of the rowboat and trudge into dense forest, you can't believe your eyes. Luisa has magically appeared at your new campsite! She greets you with a smile and a plate full of steaming pork chops and vegetables. Steve, your outfitter, gestures to huge tents already set up. They're big enough to walk in--with cots inside! Your aching muscles won't have to sleep on the ground.
For the next four days, you'll shuttle from Steve's semi-permanent camp to different locations along the Figueroa to raft and fish, then return to Luisa's incredible meals—some featuring your catch of the day--and your spacious tent. You've never slept or eaten this well outdoors in your life.
You finish your adventure with a day at Termas de Puyuhaipi, a 4-star resort built over thermal hot springs on the shore of Lago Rosselat. Here you'll soak in an outdoor hot tub, drinking a toast to your adventure with a cold cerveza or mineral water . . . can trout fishing get any better than this?
c. "Follow Me!" Alamogordo (NM) Daily News 2005
Back to More Tales of EV's Adventures
---

---
Discover more about Yvonne's can't-look-away prose and pix by contacting her at
---
---