MESMERIZED BY MEXICO'S MAGICAL MANTAS!
* Winner of Travel category in the New Mexico Press Women's Communication Contest.
Published in "Follow Me!" by the Alamogordo Daily News, April 15, 2005
Judge commented, "Makes me want to dive!"
Like a blue ghost, the giant manta ray emerges from the ocean's depth. Lazily but gracefully, it swims toward swimmers unaware of its presence.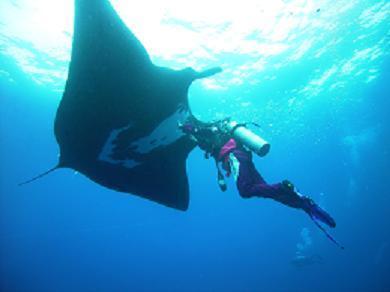 Suddenly one of them spots the shadowy figure and points to it. The others turn and stare. Now only twenty or so feet away, the ray's twelve-foot black wings display a variegated black and white underside with every stroke.
The swimmers hang suspended in the water, staring at the creature, as its graceful wings slowly propel it around them. They see clearly the ray's front pincers and open wide mouth. It looks like a creature from another world.
As the giant manta ray spirals beneath one swimmer, she gingerly puts out a hand and touches the creature's back. . . . .
Twenty or more years ago, I read a short story—its name and its author elude me—that took place in Mexico's Sea of Cortez, or Gulf of California as it's sometimes called.
In this story, a young girl developed a relationship with a giant manta ray. At the end of the story, the manta eventually allowed the girl to ride on its immense flat back.
The author's description of the Cortez's turquoise waters, Baja California's bleak landscape, and especially of the monstrous-looking creature's apparent gentleness enthralled me.
Some day, I dreamed, I would swim with a giant manta ray. Would you?
We're sailing from the harbor of Cabo San Lucas off the very southern tip of Baja California in Mexico. Your ship, the Solmar V, passes The Arches, a rocky formation that separates the Sea of Cortez from the Pacific Ocean, just as the setting sun reddens the rocks. Everyone is on deck, snapping postcard-like photos.

You will sail all night and all day tomorrow to reach the famed islands of Revillagigedos in search of its pelagic denizens: gray and humpback whales, hammerhead sharks and giant manta rays, Manta birostris.

You are not disappointed.
MANTA!
At 4 PM the next afternoon, you arrive at the island of San Benedicto where Captain Pedro drops anchor. As you ready scuba equipment and cameras for the next morning's dive, someone spots a fin breaking the surface.
"Manta!" and twenty-two people leap to the starboard side of the ship.
There it is! A grayish-black shadow maybe 5 feet below the surface glides beside the boat. In the shimmering water, the giant manta ray's shape blurs then changes color as it lifts its wing--a fleshy pectoral fin, really--and displays its white underbelly.
Squeals of delight break the initial awed silence as a second then a third ray appears.
"Hope they stick around until tomorrow," says one diver.
"They will," promise Polo and Ray, the local divemasters.
MANTAS LIKE TO HAVE . . . WHAT???
For the next morning's briefing, Polo has sketched a diagram of a manta on a whiteboard. He advises, "We're in a national park. You're not allowed to chase, feed, tease or ride the mantas. However, they will approach you if you remain still. And, they like to be touched—but only in certain places."
He points to his drawing. "Don't touch the pincer tips, the edges of its wings, and especially its tail. No animal likes its tail touched." He adds with a mischievous grin, "But you can reach under and scratch its belly. Mantas like their bellies rubbed. Any questions? OK, pool's open!"
One by one, divers drop into deep navy blue waters and follow Polo and Ray down 50 feet to a seamount. No mantas yet, but the seamount's other residents capture everyone's attention.
Little orange clarions peck at algae growing on the rocks. A tube-like trumpetfish hangs motionless, nearly disguised as seagrass. Several black and white spotted guineafowl pufferfish investigate your mask. A school of blue jacks sails past, then executes an about face as the ocean's surge rocks them--and you---back and forth.
Three Moorish Idols swim idly by; their long dorsal fins trailing like a veil. You become absorbed by a scorpionfish, whose camouflage renders him virtually indistinguishable from the rocks. Only his blinking eyes give him away.
THERE IT IS!
Then your dive buddy pokes your shoulder and points. There it is—a giant manta ray—and it's swimming right at you! You raise your camera and click the shutter—but in your excitement you forgot the flash.
As the twelve-foot wide manta glides just over your head, your buddy reaches high with one arm and tries to touch the manta's white and black belly. He rises up as the manta does and you see that he's grabbed onto the gill slit and the ray is pulling him up! You set the flash and snap again. This time, the flash works.
By now, strobes are flashing all around you as every diver snaps photo after photo. Four more mantas have appeared and are spiraling around the divers, seemingly corralling us. They glide over, around, between and under divers, some of whom are upside-down trying to scratch the manta's bellies.
You give up taking pictures and try to touch one yourself. But they're thirty or more feet away. You hover, waiting for one to approach.
SLIMY SANDPAPER?
Here comes one! It slows as it approaches you then slowly rises above you. You reach out for it, but it's too far. Then you feel a tug on your air tanks. Your buddy's lifting you up! Now you can touch it!
For several seconds you scratch the manta ray's flat white belly with ungloved fingers. It feels like 80-grit sandpaper covered with slime. Your exhaust bubbles rise and collect on the ray's underside, trapped for a moment until the ray leans to one side and they escape to the surface.
The ray waves its angel-like wings and you wonder why this beautiful creature was called "devilfish." As it glides away, you realize, like the character in the story, you now have your own tale to tell.