"Forward!" ordered Sergei, our raft captain. Like eight Roman galley slaves, we obeyed, powering the giant inflatable rubber craft into the center of the Katun River in Siberia.
Ahead of us lay the Class IV [more difficult] rapids of the Shabash, a dual collection of wave trains, sinkholes, backwashes, boulders and whirlpools - the most treacherous whitewater of our week's trek.
Gaining speed, we headed straight for a giant boulder and sinkhole. The river's thunderous roar nearly drowned Sergei's command. "Left!" Rowers on the right side back-paddled; rowers on the left paddled forward, and like a giant multi-legged insect, the raft swung away from the maw of the sinkhole — right into a crashing wave!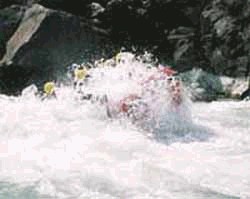 Hundreds of gallons of glacial melt water drowned us, seizing our breaths. We hardly noticed. Sergei yelled, "Right!" and paddlers changed direction instantly.
Another huge wave crashed just in front of our bow, hurling us up and over it. The raft tipped nearly vertical; gravity yanked us down, hard. I nearly lost my footing but hung on.
"Forward," barked Sergei. Our paddles dug in, stroke after rhythmic stroke.
Suddenly we were spinning 360 degrees! We screamed — half in terror, half in delight. Centrifugal force nearly jerked us overboard. Paddling like robots, we stayed in control.
Challenge after challenge, we obeyed Sergei. Hands cramped around tightly gripped paddles.
Suddenly, we entered calm water. It was over. Spin cycle stopped. "High five!" I yelled, and we raised our paddles overhead and clicked them together. We were a team!
"YOU'RE DOING. . .WHAT? . . . .WHERE!!??"
When friends and family heard I was planning to raft in Siberia, they'd objected. "You'll freeze. It's all snow and ice. Only political exiles live there. You'll hate it." Wrong.

Yes, Siberia is the classic "middle of nowhere." But summer in Siberia is glorious - hundreds of square miles of golden ripening grain fields, immense green mountains, winding rivers filled with opaque blue water melted from far away glaciers, brightly colored songbirds swooping over carpets of equally colorful wildflowers.

And Siberians love Americans. Whenever we stopped at roadside stands, locals greeted us with outstretched arms and welcoming words - and not because we were spending money. In fact, one little "babushka" (grandmother) refused my rubles for her fresh-from-the-garden tomatoes! (I gave her a granola bar in return.)

Rafting and camping for a week somewhere north of Mongolia brings new experiences every day - and night. Follow me. . . . .
STEAMING SAUNAS AND COLD VODKA—THIS IS ROUGHING IT?
One day we camped at a "banya," the Russian version of a sauna. First, we girls entered the small log hut and steamed - sans swimsuits - above hot coals. We struck each other lightly with birch branches, then doused each other with cool water, squealed, then repeated the steam-strike-douse process three more times before drying off and surrendering the banya to the boys.

Then, as the sun dipped behind the peaks of the Altai Mountains, we gathered in the dinner tent for the nightly vodka ritual. First, the ceremonial pouring of the clear, cold liquor. Next, the salute. Then, gulp the vodka all at once! A bite of marinated herring, mushroom or sausage prepares the palate for the next round of vodka toasts. Usually three or four vodka toasts began dinner. But the night of Shabash, I lost count. No wonder dinner tasted so good. . . .

Initially, the seven American rafters, three Russian rafters and seven Russian staff members behaved politely but distantly to each other.

But Shabash changed that. Now, every night around the campfire, we chatted away in broken English and bad Russian, played guessing games, sang folk songs. Girls braided each other's hair, and the guys punched each other's shoulders to punctuate details of their day's heroisms.

Gone were the stereotypes of the cold mistrustful Russian and the self-absorbed, greedy American. We're rafters — and friends.
c. Ruidoso (NM) News 2003
Back to More Tales of EV's Adventures
---

---
Discover more about Yvonne's can't-look-away prose and pix by contacting her at
---
---