Ski Your Valentine At Taos!
You've never felt so alive.
Twelve inches of fresh powder snow fell last night and you're the first one up the hill. Skis poised at the top of your favorite black diamond slope, you slip gently off the edge.
Immediately your upper body crunches slightly forward at the waist. You place your pole ahead, rise into the turn and carve a perfect S. Your body flexes for the next turn, you reach with your pole and carve another perfect turn. And another, and another. . .
* * * *
Is anything more exhilarating than skiing deep powder? You dance through uncut snow, balancing as carefully as a ballerina, as powerfully as a prizefighter. A sudden movement can throw you back on your skis' tails, so you plan every turn ahead, steering precisely around trees, over bumps, lengthening, shortening turns as terrain demands.
And when you reach the bottom, you breathe hard, but from excitement, not exertion. You lean over your ski poles and look uphill at your tracks. Your ski partner launches from the top of the hill and another perfect set of tracks crosses yours.
When your ski partner joins you at the bottom, you point at the perfectly matched tracks, laugh and gaze romantically into each other's eyes.
For today is Valentine's Day and for skiers, this is romance!
Taos Is For Lovers. . . .
What is your idea of a romantic ski holiday? Perfect snow, short lift lines, and afterward, soaking in a hot tub, cradling steaming mugs of hot chocolate or mulled wine next to a crackling fire, relishing a gourmet dinner?
Sound like Switzerland? Surprise - take your sweetheart's hand and follow me to Taos Ski Valley, New Mexico! Of all the places in the world I've skied - Colorado, California, Canada, Europe, even New Zealand - Taos is my favorite.
And why not? At an altitude of between 9,200 and 12,481 feet above sea level, its peaks snag tons of snow out of moisture-laden clouds. At the same latitude as the Mediterranean, its mild temperatures stimulate your senses instead of frostbiting your fingers.
"That's why the skiing is so good," says Jean Mayer (pronounced "Zhan My-yea;" he's French). Jean, a former racer for the French ski team, owns the Hotel St. Bernard at the base of the lifts.
"Powder as light as feathers, warm sun. Ah. . . ." His green eyes gleam wistfully as he imagines skiing Taos' chutes and glades.
Taos is one of those skiing legends one hears about but doesn't quite believe. From the beginning, Taos earned a reputation for excellent skiing, winning recognition in national ski publications for four decades. The tradition continues.
. . . . .Lovers Of Good Skiing. . . .
You catch your breath after that deep powder run and head for the nearest lift. By now, you're on groomed intermediate runs wide enough to make long, sweeping turns.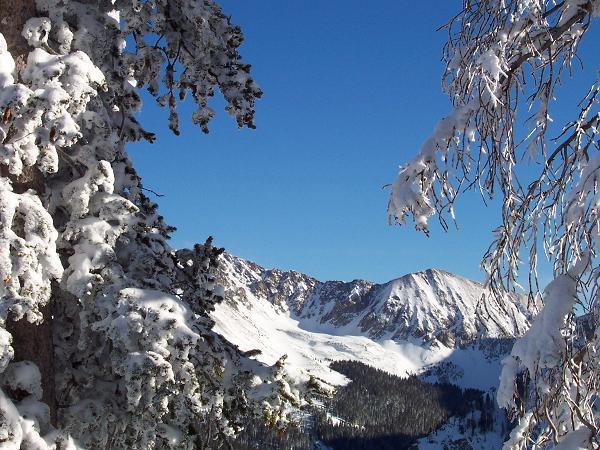 Again, you balance over your skis and plant your pole to initiate the turn, but this time, you lean into the hill, setting your skis on edge. Your ski's sidecut naturally bends the ski into a curved shape and you carve perfect parallel tracks as you cross the fall line and head into the next turn. Your uphill leg bends deeply and your downhill leg extends, absorbing terrain changes as you fly across the slope in perfect control.
On the lift, you ask your sweetheart what run to ski next. So many choices: bumps, glades, groomed, crud, intermediate or expert, short or long.
Your sweetheart chooses Jean's Glade, a double black diamond trail accessed off Porcupine, a groomed intermediate run.
At the top of Jean's Glade, you plan your path snaking around trees. Today's snow has softened the huge moguls, or big bumps of snow carved by skiers. Your sweetheart takes off; you follow less than a turn behind, your mind on automatic pilot as you lose yourself in the rhythm - up the side of one mogul, then a perfect carve down its side to the next mogul, again and again.
Suddenly you're sitting down! You got too far back on your skis! But no worries, the soft snow cushions your fall and you laugh as you extricate yourself. Standing up, you shake powder snow from your body like a dog, adjust your poles and race down.
What a run.
. . . .And Lovers Of Good Food And Fun
And at the end of the day, you simply ski down to the hotel, remove your skis and walk inside. For your Hotel St. Bernard sits right at the base area. No driving, shuttle or lugging skis for you! Save your energy for important things, like hot tub-soaking or mulled wine-sipping around a copper fireplace.
Jean serves a five-course dinner, "to reward your exuberance," he says with a smile: French onion soup, foie gras on toast points, crab with greens and balsamic vinaigrette, filet mignon with béarnaise sauce, potatoes Lyonnaise and sautéed vegetables. Eat slowly; dessert is double chocolate mousse.
To prepare for more "exuberant skiing," your breakfast the next morning offers seven cold cereals, one hot cereal, bowls of fresh and stewed fruit, Eggs Benedict, sausages and cranberry bread.
After you burn all that up skiing in the morning, lunch is borscht, green salad and shrimp curry with rice - plus ice cream with raspberry sauce for dessert. Ski hard this afternoon!
And what's for dinner tonight? No matter, your sweetheart will thank you for the best Valentine's Day the two of you have ever had!
Live Your Valentine Dream
Resort info: skitaos.org or 505-776-2291. Snow report: skitaos.org/snowreport or 505-776-2916
Reservations for all Taos Ski Valley hotels: 800-776-2916 or 505-776-2233.
Hotel St. Bernard: 505-776-2251 or www.stbernardtaos.com
Taos Ski Valley is about two hours north of Santa Fe, total drive time from Alamogordo approx. 5 ½ hours - if there's no snow on the road!
c. "Follow Me!" Alamogordo (NM) Daily News 2005
Back to More Tales of EV's Adventures
---

---
Discover more about Yvonne's can't-look-away prose and pix by contacting her at
---
---