Ski a Day with a Patroller!
Ah, the glamorous life of a ski patroller. . .skiing first powder tracks, flirting with comely customers, looking so yummy in that uniform. . . .Nice job, right?
Spend a typical day with the patrol at Ski Apache, New Mexico, the southernmost major ski area in the United States and decide for yourself. . . .
5:45 AM: Joe Patroller is up, breakfasted and out the door just as the sky begins to lighten.
7 AM: He four-wheels up a winding, snow-covered mountain road to Ski Apache, near Ruidoso, NM. (Located in the south central mountains of New Mexico, Ski Apache's powder and sunshine have attracted skiers since the early 60s. Thirty-one lifts transport skiers and snowboarders to 55 trails that cover 750 acres in the Lincoln National Forest and the Mescalero Apache Reservation.) Waving to the State Highway Department snowplow driver, he parks at the base area in front of the Patrol Building. Inside the Patrol Building, he mixes a cup of strong coffee with hot chocolate mix (the "double buzz") then tackles snow-covered stairs with the snow shovel.
8 AM: Morning meeting. The patrol director announces ten inches of powder fell last night. Thirty patrollers emit a low chorus in sighs of pleasure. "Don, take two patrollers with you and check the boundary ropes. Harvey, round up three and dig out the gondola. Judy, you do the same with Chair One. Everybody else, dig out sleds at the Gazebo. This is President's Day weekend, so you'll be assigned speed control duty in Moonshine Gulch in addition to your Gazebo or First Aid Station duty." Sighs of pleasure evolve into groans. No first-track powder runs for them today. After announcements, two patrollers present a 10-minute "mini-refresher." Today's topic, "The Importance of the Rapid Use of O2 in the Treatment of Injuries."
8:45 AM: The gondola opens for patrol only. This lift terminates at the top of the major portion of the ski area. Before lifts open, patrollers will have checked, marked or corrected hazards such as downed boundary ropes, snow-covered trail signs, exposed stumps and broken tree branches. They also check snow making equipment for leaks or missing covers. "Skier safety is our Number One job," say the patrollers.
9 AM: Lifts open, but in the First Aid Station at the base area, two pale patients already occupy beds. "Because our base area is over 9,000 feet high and most of our customers are from Texas, altitude affects some of them even before they start skiing," says Joan, Auxiliary Patroller who staffs the First Aid Station. "Usually they've driven all night, haven't eaten breakfast, and can't wait to hit the slopes. They present with nausea and body temp below 98.6. We treat them with high-flow 02 for about ten minutes. When the nausea subsides, they drink hot chocolate to raise their blood sugar. When they feel better, they're released to ski — with instructions to eat breakfast first!" If the patient shows no improvement, patrol advises returning to the town of Ruidoso, about 2,500 feet lower, for symptoms to subside and to seek treatment at the local ER if they don't.
9:01 AM to 3:45 PM: Thousands of excited skiers, mostly from Texas, whoop and holler down the powder and freshly groomed slopes of the nation's southernmost major ski area. On-the-hill patrollers rotate dispatch duties in the Gazebo, the terminus of the gondola, with checking out radio calls of possible incidents on Ski Apache's 55 trails. Auxiliary patrollers rotate duties in the First Aid Station. When not on duty in the Gazebo or in the First Aid Station, both on-the-hillers and auxiliaries also do speed control at major trail intersections.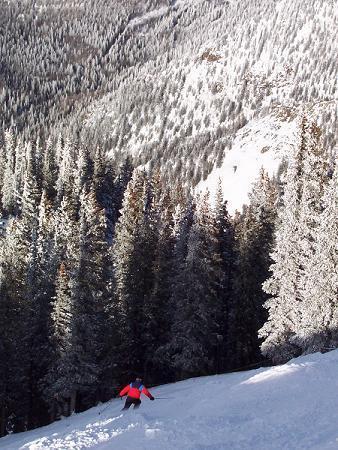 Joe Patroller rides Chair One. His radio crackles, "Anyone in position to check out an incident on Meadows?" Joe, about to dismount the lift accessing that slope, radios back, "I'm in position." In a few minutes, he glides to a stop on Meadows, a popular intermediate slope. A female skier about 18 years old sits on the side of the trail, holding her knee. Joe removes his skis, crosses them above the seated skier, identifies himself and assesses the situation. The skier says her knee hurts and she knows she can't ski down. Joe radios back, "Incident confirmed, sled requested." In a few minutes, Jane Patroller arrives with a sled pre-packed with splints and blankets. A third patroller skiing nearby overheard the call on her radio and arrives to assist with traffic control while the skier is splinted and loaded into the sled.
Meanwhile, Joan and Jim Auxiliary Patroller have overheard the radio call in the First Aid Station and have a gurney and warm blankets waiting. The sled arrives, the patient unloaded, Jane and Joe give their reports to Joan and Jim, re-pack the sled and head back up to the Gazebo.
Auxiliary Patrollers Joan and Jim re-assess the patient and re-splint if necessary. They contact the patient's family and suggest she get checked out at the ER in Ruidoso.
As the day progresses, the scenario repeats as skiers become tired and eager to "get just one more run." Joe, Jane, Jim and Joan will finish their assigned duties and grab lunch whenever time permits. What about skiing that delicious powder? "On busy days, don't count on it!"
At Ski Apache, all patrollers make their presence known to the skiing public. In bright red (on-the-hillers) or black (auxiliaries) jackets with white crosses, patrollers are easily identifiable. "Skiers ask us for directions to certain slopes, for trail advice, where the restrooms are, for help off slopes they can't handle — we do a lot of public relations in addition to first aid."
Sure enough, by the end of the day, in addition to hauling sleds and patient care, Jim skied down a nine-year-old boy who wandered off an easy trail onto a more difficult one, Joe helped members of a church group find their leader, Jane answered questions from a customer who is interested in becoming a patroller next season, and Joan, who speaks Spanish, gave directions to a family from Mexico.
4 PM: The lifts have closed, and all patrollers except auxiliaries who have duty in the First Aid Station are assembled in the Gazebo. Each patroller is assigned a slope to "sweep." He or she will ski the slope slowly from side to side, checking trees for skiers, and following down any remaining skiers on the slope. "Sweep" assures that no one is left on the mountain. After sweeping his or her slope, the patroller checks in at the First Aid Station. Only when every patroller is accounted for and every skier is off the slopes, the patrol director announces, "The mountain is clear" and the ski area officially closes for the day.
5:45 PM: Joe, Jane, Jim and Joan head down the mountain, twelve hours after their patrol day began.
Glamorous? Maybe not, but very, very satisfying.
Yvonne Lanelli recently retired from nearly twenty years with the Ski Apache Patrol. "Best job I never got paid for," she vows.