| | | | | |
| --- | --- | --- | --- | --- |
| | | | | |
| Published Articles | Featured Articles | Awards | Photo Gallery | About Yvonne |
---
Yvonne Lanelli - Prose, Pix, Editing
---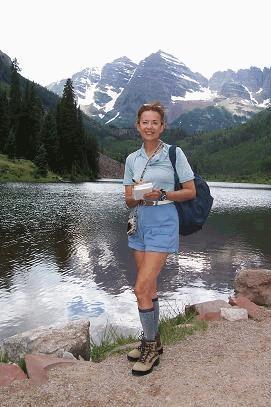 "Call me a grown up tomboy,"
avows freelance writer/editor/photographer Yvonne "EV" Lanelli. "I love scuba diving, hiking, whitewater rafting, skiing—and writing about them!"
Do you wonder what it would be like to
swim in the Antarctic Ocean on New Year's Day?
Dive World War II wrecks in Micronesia?
Explore Akumal's fabled cenotes?
Whitewater raft in Siberia?
Swim with hammerhead sharks?
Visit an isolated Central American Native village?
Fly fish in Chile's Patagonia?
Zip line rappel in Costa Rica?
Powder ski, snowboard or mogul mash in the southern Rockies?
Crawl through ancient ruins in Pohnpei?
Survive and thrive in the canyons of Manhattan or snag the best bargains in Panama's shopping malls?
Treat a bite from a vicious triggerfish?
Ask Yvonne!
Or better yet, read her outdoor adventure column "Follow Me!" in !Vámonos! published by the Alamogordo Daily News and Ruidoso News or her world-wide travel adventures in Platinum magazine published by the Roswell Daily Record.
As Contributing Editor to Wilderness Medical Society magazine, Yvonne reveals the scoop on medical care in exotic locales from Alaska's Little Diomede to South Pacific's Tikopia. Scuba divers follow her articles in DAN Alert Diver, DAN Asia-Pacific, Dive Chronicles and Undercurrent. She's been published in Live Life Travel, DesertUSA.com and others. Her work regularly garners awards from state and national professional organizations. Click on Awards page.

Since 1985, Yvonne's readers have discovered adventure in locales ranging from the Lincoln National Forest near her Alto, NM home to all seven continents, from the tops of the Rocky Mountains to beneath the surface of the Pacific, from tiny tropical islands to the White Continent. Her readers have played basketball with Choco Indians, dived stalagmites in Belize, been rescued by ski patrollers on snowy mountainsides, photographed elk in the Capitan Mountains, been tattooed in Panama, met famous artists in the Hondo Valley, ski raced in costume on Valentine's Day and even seen ghosts in El Paso!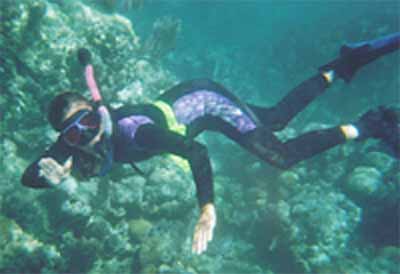 The 30-year Alto resident began writing and photographing professionally by freelancing for her local paper, the Ruidoso News. "I covered everything—fires, local politics, Senior Olympics, ski racing, personality profiles, medical conventions, Billy the Kid and Smokey Bear. On a local paper, you do it all."

Regional and national magazines including New Mexico Magazine, Snow Country, and New Mexico Business Journal soon picked up her work. She also proofread book manuscripts for Texas Western Press. "I still write and photograph any subject, but I'm concentrating on scuba diving, skiing and any outdoor adventure. That and eco-tourism lead the travel industry. Besides, they're fun!"

In 2008, EV was named Executive Coordinator for International Oceanic Supply, which provides medical staffing to small cruise ships.

To see more of EV's fascinating tales of adventure, browse through this site. To read some of EV's published work, visit the Published Articles page, or view some photos of her journeys in the Photo Gallery. Enjoy!
EV shares travel secrets and savvy at Community Education workshops at Eastern New Mexico University in Ruidoso, New Mexico. www.ruidoso.enmu.edu
---
Sample publications:
"Follow Me!" an outdoor adventure column published alternate Fridays in the Alamogordo Daily News and Ruidoso News June 2004 to present


"War and Peace in the Deep"
DAN Alert Diver , March-April, 2008

"Discovering the 'Real Florida' with your Grandchildren"
Platinum, Summer, 2007

"Kicked by the Katun"
Live Life Travel, January, 2008
"Discover Seven El Paso Surprises," "Ski Apache Puts the 'Wow' in Winter," "Dee Wescott—Passionate about Art and Lincoln County," "Where the Elk and the Pronghorn Play"
Enchantment, Summer/Fall 2006

"Santa Catalina, Scuba Coiba, Panama,"
Undercurrent, March, 2006

"Deep and Tech Diving Rock at Rock Lake in New Mexico"
Dive Chronicles, March 2006

"Row, row, row your boat violently down the Stream,"
a personality profile/travel feature on whitewater rafting in Siberia, Podiatry Management, April 2004

. . . Plus a whole lot more!
Read more at
Published Articles
or
Featured Articles
---

---
Discover more about Yvonne's can't-look-away prose and pix by contacting her at
EVLanelli@yahoo.com . . . . . today!
---
---
Web Design by The Hanging Chad Group
Students of ENMU-Ruidoso, NM
Last Updated: 05/23/2009
Webmaster: Sue Lutz
© Copyright 2004-2009 Yvonne Lanelli